Rivington Farm Trip, Home Farm, Horrobin Lane, Rivington PR6 9HE
Since we launched TWICB in February 2020 and began to explore the UK Craft Beer Scene with more than a casual eye, there was one Brewery/Taproom location we heard mention of again and again, as being the most spectacular and picturesque of them all. That Brewery was Rivington.
In an industry where the majority of businesses are located on gritty industrial estates by practical necessity, any business that is located on a farm will be more attractive than most.
Rivington, however, is not just based on any old farm. It is situated on rolling pastures deep in the Lancashire countryside, with a spectacular views across the huge Rivington reservoir to the majestic Winter Hill, which dominates the landscape northwest of Manchester.
Early in their history, pre-COVID, Rivington built a container bar in a wooded area of the estate, where they would host ad-hoc events to be known as "Tap Beneath The Trees". This developed something of a legendary status, particularly during lock-down, when we were all dreaming of being able to do such things again.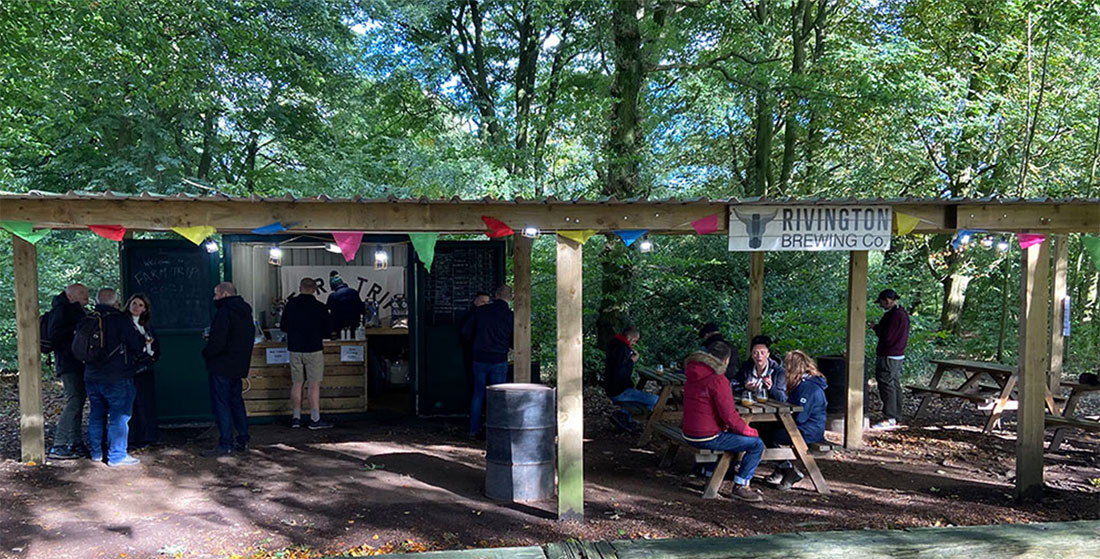 Therefore, when Rivington announced Farm Trip 2021, which was to be an evolution of Tap Between The Trees, only bigger and better, and running for five full days, we knew we needed to be a part of it. The Event consisted of 89 Beers from 31 breweries pouring across three bars, including the Taproom, the Shelter Bar in the courtyard, and the Tap Beneath The Trees itself.
During lockdown, Rivington did a terrific job developing their outdoor space, including two large overed seating areas, built around the courtyard, all with views to die-for, across the reservoir.
With the addition of the Tap Beneath The Trees area, there was so much space for the sold-out 250 ticket holders on Friday, that the whole event had a really easy going vibe, and seemed more like a friendly gathering than the full-on mania of a beer festival.
We had a great time chatting with old friends and new, and enjoyed some incredible beers. Particular mention must go to Connor from Cloudwater, who conducted an amazing bottle share in a forest glade, where we tasted and discussed three recent magnificent Cloudwater mixed-ferm releases and their latest Imperial Stout.
We feel privileged at TWICB to receive an amazing welcome wherever we turn up at Breweries and Taprooms up and down the Country. We always leave with promises to return as soon as we are able, but it is safe to say that a return trip to Rivington is now very high on our must-do list for 2022.
Podcast : search for This Week In Craft Beer on any podcast app or website – Issue 76.