Attic Brew Taproom, 29B Mary Vale Road, Stirchley, Birmingham B30 2DA
Just a short walk from Bournville Railway station (a 13 minute train journey from Birmingham New St Station), can be found The Attic Brewery and Taproom. The entrance is a tiny walkway from the road, that opens up into a large outdoor space before the brewery and taproom building.
The site is on an old industrial unit with a high ceiling and windows which date back over a 100 years. The interior has been cleverly revamped to be home of both the brewery and taproom, where customers are surrounded by bright tanks and fermentation vessels for a genuine taproom experience.
The inside seating area has capacity for perhaps 80-100 people, with additional seating in outside covered areas. The main bar has 15 keg taps serving mainly Attic beers but with a selection of guest beers and a cider. Wines and spirits are also available for the non beer drinker.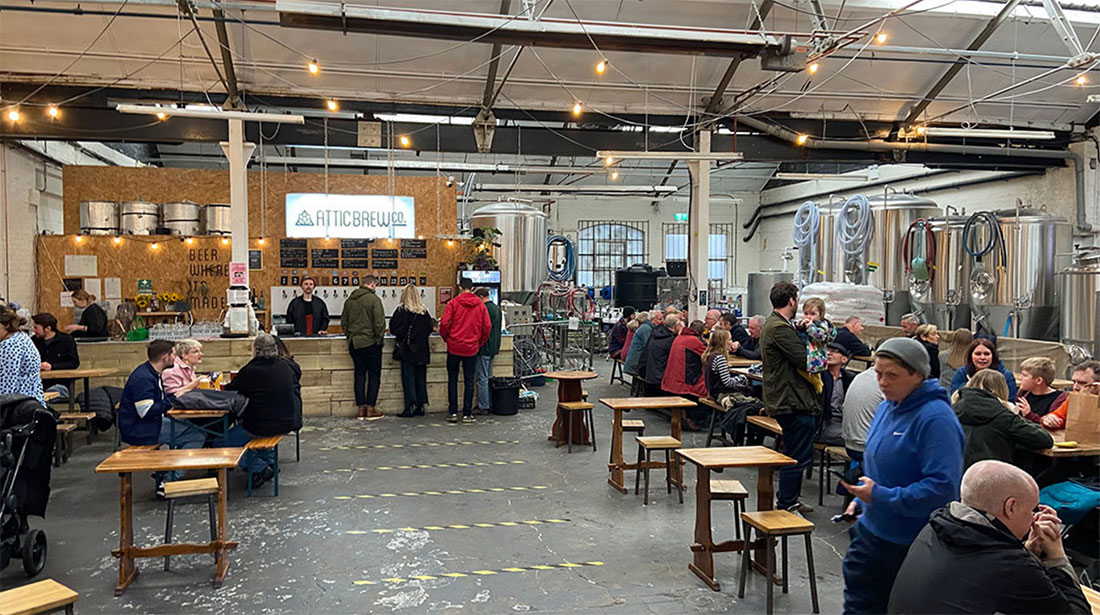 On most weekends a street food vendor is set up outside for those who fancy a bite to eat. There is
plenty of room between wooden tables and benches adding to a sense of spaciousness.
Both Rob and myself visited the taproom on Saturday afternoon, just after it opened at 1pm. We noticed how popular it was, as within 10 minutes the taproom was half full, and within half hour nearly at full capacity inside.
The surroundings were terrific, the beers superb and the company great, so we grabbed the preplanned opportunity to record a Podcast update with Oli, the co-founder of Attic Brew.
Oli gave us a tour of the brewery, showing us their newly acquired unit next door, which will double floor space and, when finished, make the taproom even more impressive.
The taproom is open from 6pm on Fridays, and 1pm on Saturdays and Sundays. It is so popular that they don't take bookings, making it walk-ins only, so if you're planning a visit be sure to turn up early.
Podcast : search for This Week In Craft Beer on any podcast app or website – Issue 78.