GlassHouse Beer Co., Waterside Business Park, Unit 6B, 1649-1652 Pershore Road, Birmingham B30 3DR
The GlassHouse Brewery and Taproom is close to the canal at Waterside Business Park near Stirchley in South Birmingham. However, it can be a tricky place to find. Indeed, when we visited last weekend it took us a ridiculously long time to do just that. At one stage we were next to the canal, could see the Taproom and were close enough to make out the taps behind the bar, yet it took us another 20 minutes to get to the entrance, despite asking directions from a someone on a canal boat and following Google maps on our mobiles.
Nevertheless, once we did eventually make it (via an obscure industrial estate entrance and walking the whole length of the estate), we felt our efforts had been justified. The GlassHouse Taproom is a typical industrial unit, with seating inside and out. The unit also serves as the brew house and all the equipment is in full view of drinkers.
The bar has 10 keg taps all serving GlassHouse beers, plus a fridge selection offering more GlassHouse beers plus Oliver's Ciders and Perry. Wines and soft drinks are also available.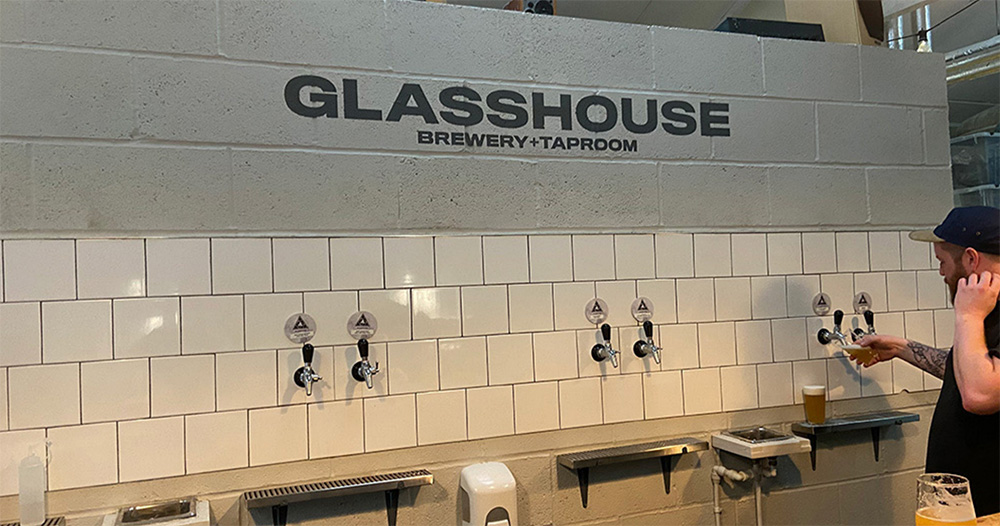 Inside is clean and well organised, with smart wooden tables and seating benches. Overhead heaters ensure there's warmth on cold days. There is plenty of outside seating too, which we imagine would be great on sunny days as it overlooks the canal.
The main purpose of a taproom is obviously the beer, and GlassHouse have a great selection of their freshest brews on offer. During our visit we enjoyed a superb single hop Simcoe Pale Ale, together with several other delicious Pale Ales and IPAs. Street food vendors set up outside sometimes, so it's worth checking on IG or FB pages to see when available.
Currently, in October 2021 the taproom opens for walk-ins only on Saturday afternoons from 2pm until 10pm (no pre-booking), but this may vary during the summer months and if special events are scheduled.
Overall, we thought the GlassHouse Taproom is well worth a visit, if you can find the way in that is!