Boxcar Brewery & Taproom, Unit 1 Birkbeck Street, London E2 6JY
The Boxcar Taproom is situated right next to their brewery in Bethnal Green, London – tucked away in an atmospheric railway arch which is just a two minute walk from Bethnal Green Tube Station.
Although restricted by the confines of the arch, Boxcar have made great use of the space available both inside and out, so it appears much larger than it actually is.
Inside there are plenty of leather couches and chairs for comfortable seating, and the place has a relaxed and artisan feel. Outside, the wooden seat-ing is picturesque and there is artistic mood lighting as well as well-kept planting.
The bar itself offers 8 keg taps and 2 cask options. When we visited in early September all the kegs were exclusively Boxcar beers and was made up mainly of Pale Ales, IPAs and a DIPA.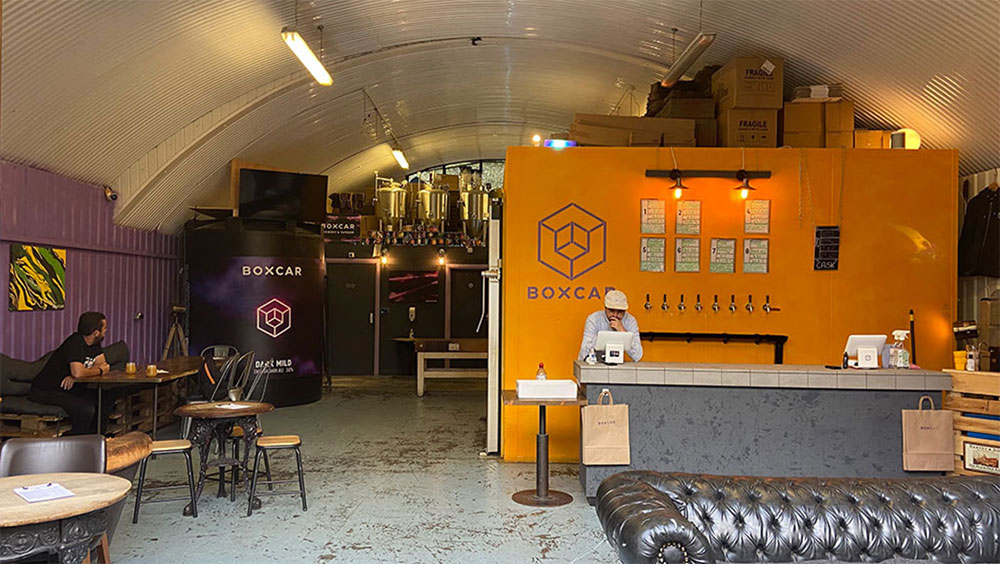 These were supported with chilled cans from two double fridges nearby, containing mainly Boxcar
beers for takeaway plus a few guest cans from other UK breweries. They also stock delicious natural wines by the bottle from London based, Natural Born Wine.
As is common with this type of venue, they don't serve food but you are able to bring your own. Alternatively, you can arrange to have food delivered and eat it on the premises. Who can say no to a pizza and Craft Beer?
Currently, the taproom opens from 5pm until late on Wednesday, Thursday and Friday and from noon till late on Saturday and Sunday. It's a great little taproom, and well worth a visit to chill out and enjoy fresh Boxcar beers, even if you're not local.