Little Earth Project, Mill Green, Edwardstone, Sudbury CO10 5PX
Located in remote South Suffolk countryside, the White Horse is an oasis of great beer, and made better by the Little Earth Project Brewery next door. Both are run by beer enthusiasts Tom and Dani.
Little Earth Project produce small batch mixed fermentation, barrel aged sour beers. They grow their own organic hops near the brewery and often forage for additional ingredients in local hedgerows. Their relaxed way of country living is reflected in the process of creating beer which typically takes 1-2 years before release.
Although currently closed for indoor drinking, the pub itself is very spacious with additional covered outdoor areas and a large garden. The grounds also include an open campsite as well as 2 holiday chalets for rent.
LEP are very hot on sustainability and Suffolk County Council has recognised them as purveyors of Green Tourism. Not only are there solar panels on the roof, they source water from their own borehole and have 3 wood burners for
warmth in the winter, using local coppiced wood. A small 9m wind turbine supplies additional green electricity to the premises.
The bar has 6 taps offering Little Earth Project beers, 8 keg lines and several cask taps that rotate regularly with breweries local and countrywide.
When Rob and Steve from TWICB stayed recently, there were cask and keg beers from Burnt Mill, Burning Sky, The Kernel, Deya, and Utopian Brewing. These are a welcome addition to the delicious mixed fermentation beers from LEP. They also have an extensive list of bottle beers (all mixed fermentation and wild ales) from around the world including Trillium.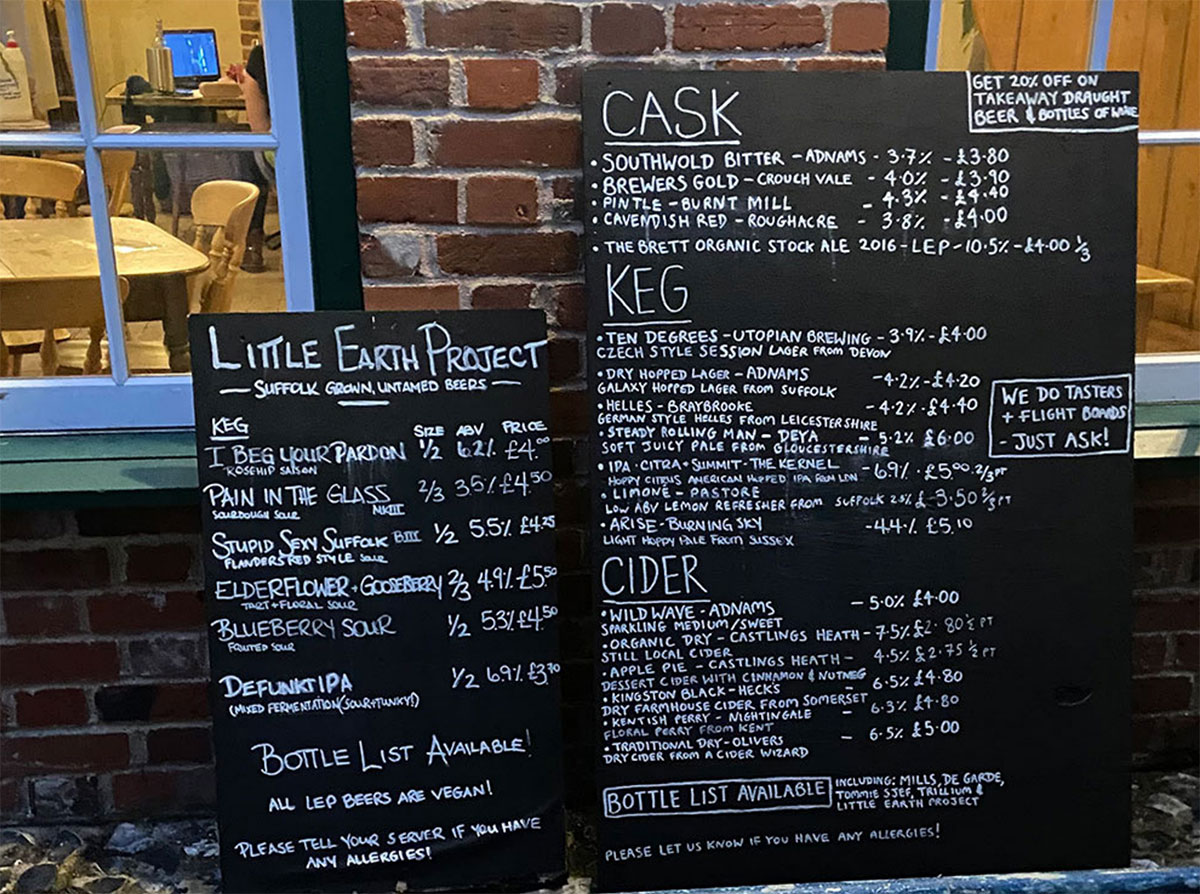 Currently no food is available in the pub (June 2021) although we understand it will be coming soon. In the meantime, on Friday evenings and at weekends a food truck selling tasty burgers is an option if you're peckish.
Located just 6 miles from Sudbury, a 40 minute drive from Stansted Airport as well as being located along the South Suffolk Cycle Route – the Edwardstone White Horse has plenty to offer and we at TWICB throughly enjoyed our drinking at the pub, before retiring, a bit worse for wear, to our tents.