Mother Kelly's, 27-30 Victory Parade, London E20 1FS
Opened in late 2019, Mother Kelly's Stratford was the fifth and most recent Taproom to open in the popular Mother Kelly's London chain.
It is situated overlooking a vast pedestrianised precinct amongst new apartment blocks and landscaped gardens, just a couple of hundred yards from Stratford Station and Westfield Shopping Mall.
On a sunny July afternoon, it had a very relaxed, continental cafe vibe to it. There is outdoor seating for perhaps 75 people, and seating inside for a further 50-odd. There are 20 draft keg lines, pouring a nicely-curated mix of mostly UK Craft Beers, including two Vault City sours, three Kernels, and beers from BBNo, Northern Monk and Yonder.
In addition to the draft offerings, there are eight tall fridges, absolutely crammed with cans and bottles from the great and the good of global Craft Beer.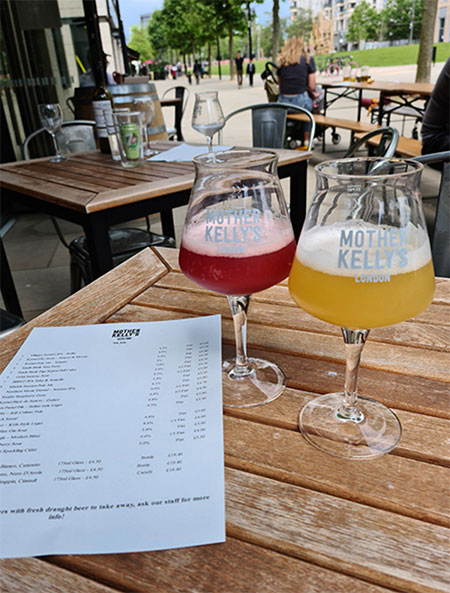 They mainly operate via walk-ups, but limited table bookings are available by phone or email. Table service was very fast and efficient, and I could happily have sat there all afternoon, watching the World go by.
There is a simple food menu, consisting of various toasties, cheese, meat and veggie boards.
If you haven't yet had the pleasure of a visit to Mother Kelly's, you should definitely add them to your agenda, the next time you are in London.