The Outpost – Three Hills Brewing, 7 Almond Road, Bermondsey, London SE16 3LR
When TWICB first interviewed Andy from Three Hills for the Podcast in October 2020 he had just got the keys to their new Bermondsey Beer-Mile Brewery and Taproom (a railway arch formerly occupied by Affinity Brew Co). At the time we discussed their grand-opening plans, although we couldn't have imagined that we still had a long eight months of lock-down ahead of us.
We knew that a trip to the Three Hills Outpost in Bermondsey was always going to be a priority once things had opened up again, and we were thrilled to sit down there with Andy last week to record an update.
The Outpost is located at the Southeast end of the Bermondsey Beer Mile, next door to Spartan and a hundred yards from the Eebria Taproom. The good news is that the arches are quite tall at this end, so The Outpost has room for a mezzanine floor above the brewery, with seating for around 40 people, amongst the antique furniture and pianos.
In addition to the indoor seating, when the weather is cooperating, there are tables available for another 100 people along the alley that approaches The Outpost.
The Taproom has 18 draft lines, including one nitro line. The plan is to pour mainly Three Hills Beers, but there will always be a few guest choices, including the occasional interesting import. The draft lines are complemented by a well-stocked fridge, as well as draft To-Ol cocktails and Prosecco.
Andy also intends to maintain a couple of Taproom exclusive Three Hills beers, including a raw version of their popular Heidrun IPA (very highly recommended) as well as a tank-dispensed blended Saison, which will evolve as new brews are periodically blended-in.
They operate via walk-ups, rather than table bookings, but with their large capacity you will usually find a seat.
There is no food available on a regular basis, although Andy says that discussions are underway regarding some exciting guest celebrity-chef one-offs. In any case, Bermondsey High St is only 100 yards away, with numerous take-away food options.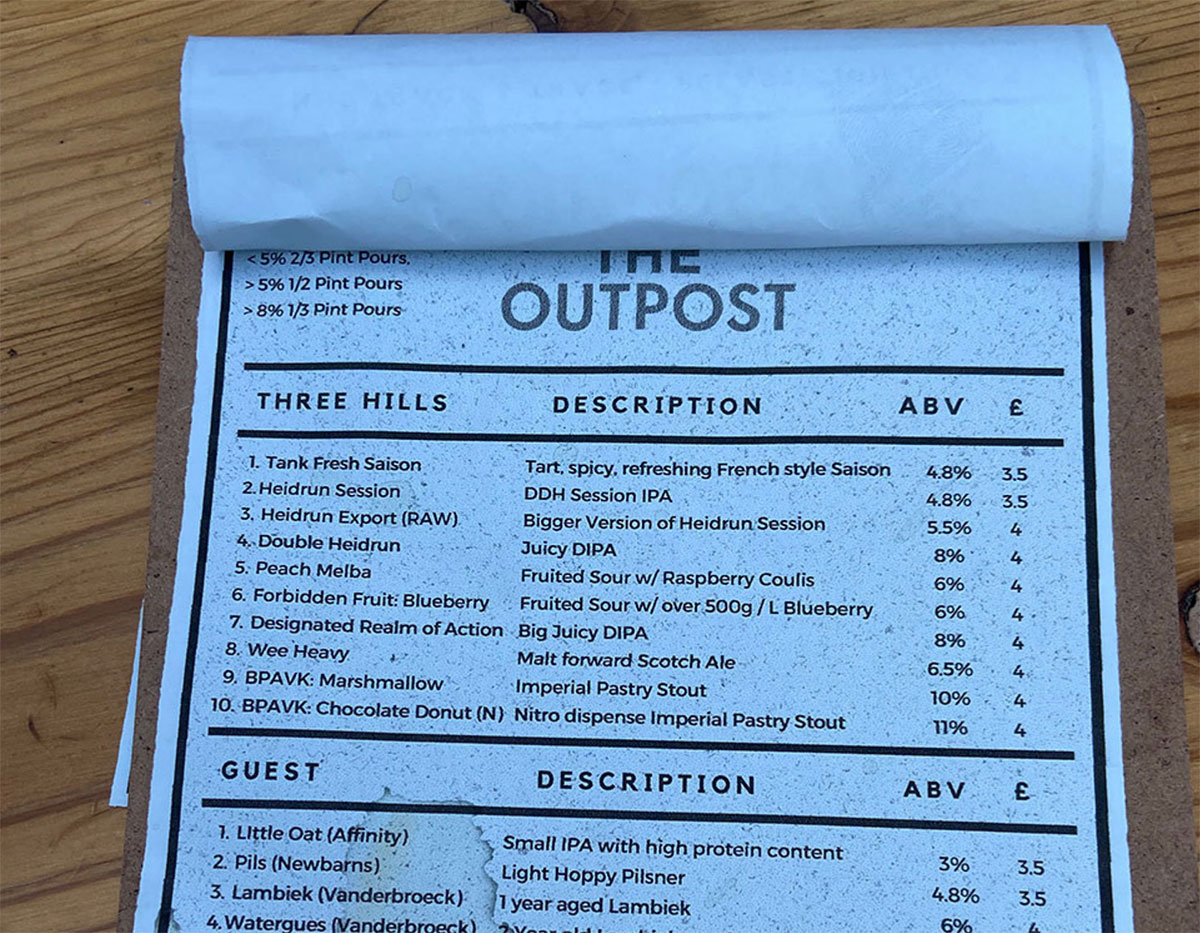 The next time that you are heading to the Bermondsey Beer Mile, we suggest you start at The Outpost, and then work your way Northwest, to The Kernel, BBNo., Cloudwater etc. The exciting selection of draft beers available at The Outpost is not to be missed.