Pipeline Brewery & Taproom, Great Western Railway Yard, St Agnes, Cornwall TR5 0PD
The Pipeline Brewery and Taproom is tucked away at the end of a light industrial estate not far from the small town of St Agnes, on the North Cornwall coast. It's a quaint, quiet spot with no through traffic or disruption. The unit is compact and well organised, comprising of the brewery and a small 6 tap bar with both indoor and outdoor drinking space. Rustic tables and pallets for fencing give it real old school charm.
Currently the taproom is open Friday and Saturday from 4pm to 10pm. However, customers can always pop by during the day to buy cans out of these hours.
When TWICB visited last week the weather was fantastic and the outdoor tables were placed to catch both the sun and shade. There was plenty of room for 6-8 large tables with benches, plus 2 or 3 inside. More seating can be arranged if needed.
The table service bar serves delicious Pipeline beers fresh from the tap. During our visit we enjoyed a fabulous New Zealand Pale Ale, a stunning dry hopped lager, several tasty IPAs, a DIPA and an Imperial Stout. The complete menu consisted of 8 Pipeline beers, 2 local cider and a range of soft drinks and bottled water. No food is available other than a selection of crisps and nibbles.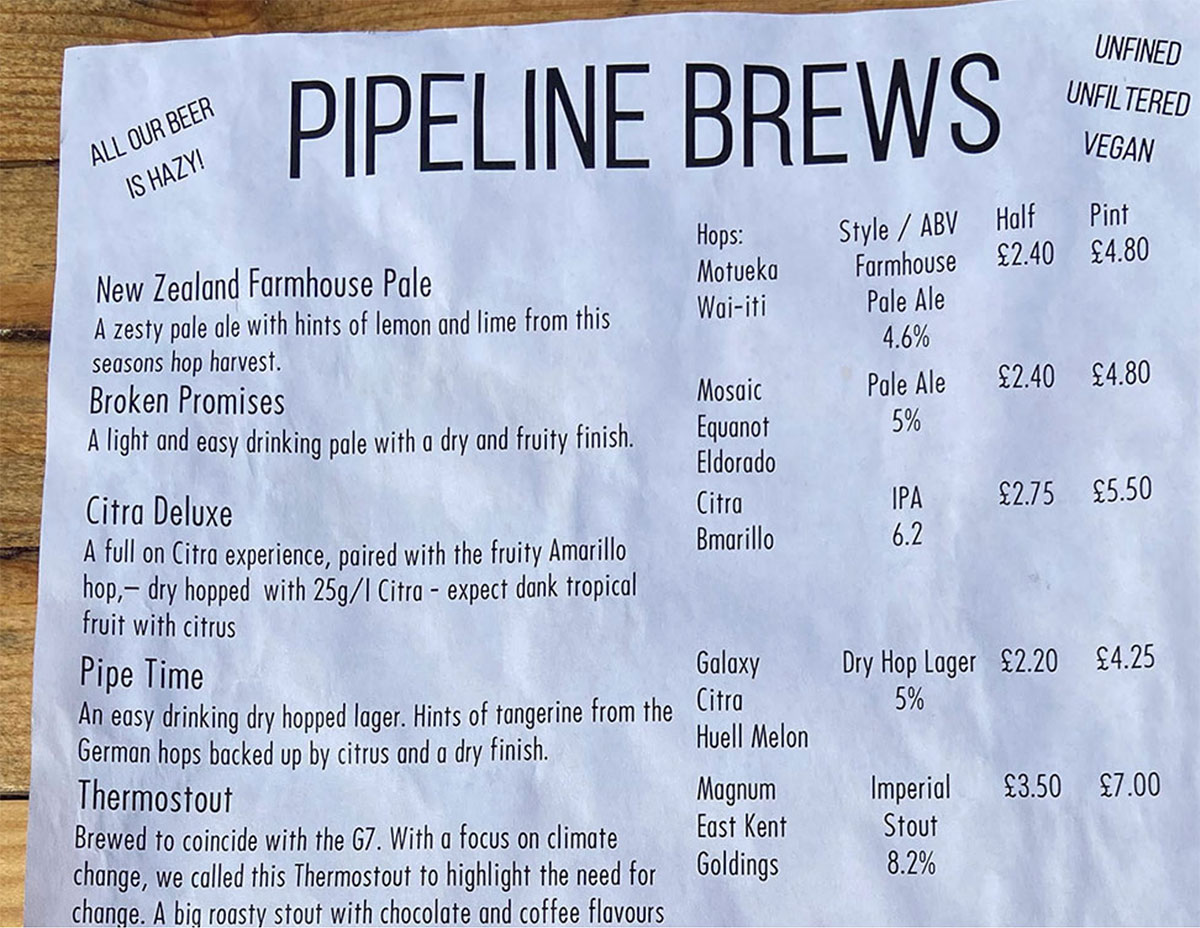 While there we took the opportunity to record a mini podcast with Jonny, the owner of Pipeline Brewery, and then worked our merry way through the entire beer menu before retiring to our tents, pitched at an immaculate campsite 100 yards away.
Pipeline beers are quite special with an overall Untappd rating of 3.98 and are certainly worth seeking out. If you're planning a trip to Cornwall this is a must stop for any Craft Beer fan, and with a fantastic campsite next door there is no excuse not to visit.
The podcast is available to download through the normal channels. Just search for 'This Week In Craft Beer'.