Yonder Brewery Tap, Rookery Farm, Radstock, Somerset BA3 4UL
The Yonder Brewery Tap is situated at Rookery Farm, in the heart of the Mendip Hills of Somerset, which is an area of outstanding natural beauty. The location is remote, so a trip needs planning, but the effort is well worth it.
The outside bar is a converted ship container which has 8 keg taps all serving fresh Yonder beers, sourced from the brewery next door. A well stocked fridge offers an assortment of other Yonder beers including the iconic 'Fool' range of 9.5% pastry sours that are not to be missed.
When we visited in mid July it was a fantastic hot day, so the taproom hit the spot perfectly. Not only were the beers great, but background music was playing and there was ample open space and seating.
Table service was fast, and the staff, who were very informative, seemed to genuinely enjoy what they were doing. The taproom area was really busy and everyone there seemed to be having a great time. With plenty of room for children to play, it's an ideal setting for families, and, unlike any taproom we've visited so far, it's neighbours are a group of Llamas, grazing in an adjacent field.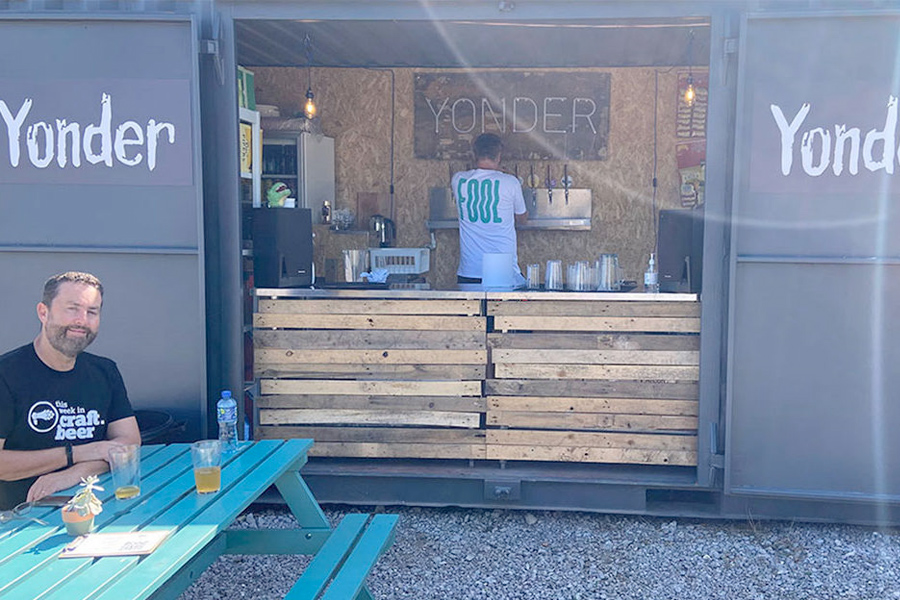 Craft Beer usually tastes better with food, and during our visit this was supplied by 'Fattso Burgers', a popup street food vendor. Their burger and fries were amazing and generously portioned. We learned that food vendors alternate each week during the summer to give an element of surprise and variety.
Currently Yonder Brewery Taproom is open only on Saturdays from noon to 9pm (mid April into the summer months), so don't forget to check they are open before making the trip. Owners Jasper and Stu have done their best to create a great experience for their customers so we recommend you give it a go, as well as listening in to our podcast, recorded during our visit.