Hop City 2021, Northern Monk, Sydenham Road, Leeds LS11 9PL
It's no exaggeration to say it was the wonder of a full Craft Beer Festival Experience which inspired us to start TWICB. It's also true that memories of Cloudwater Friends & Family (February) 2020, were a source of strength to us during some dark days of the pandemic. As Friends & Family didn't happen this year, we knew that we were going to hit Hop City 2021 hard, deciding to attend on both Friday and Saturday evenings.
We headed to Leeds on Thursday morning, having arranged an overdue catch-up with Ross from Alpha Delta for the podcast on Thursday evening. This led into a pleasantly heavy drinking session and convinced us that our experience "up North" was going to be a good one.
This year, for the first time and with COVID precautions in mind, Hop City was held in the main Northern Monk Brewery in Sydenham Road. The event was split between two connected outdoor areas, one in the main brewery courtyard, and the other around the back of the office building. We're unsure how many people attended but certainly Saturday evening was much busier than Friday evening. We heard mention of a session limit of 500, which seems about right.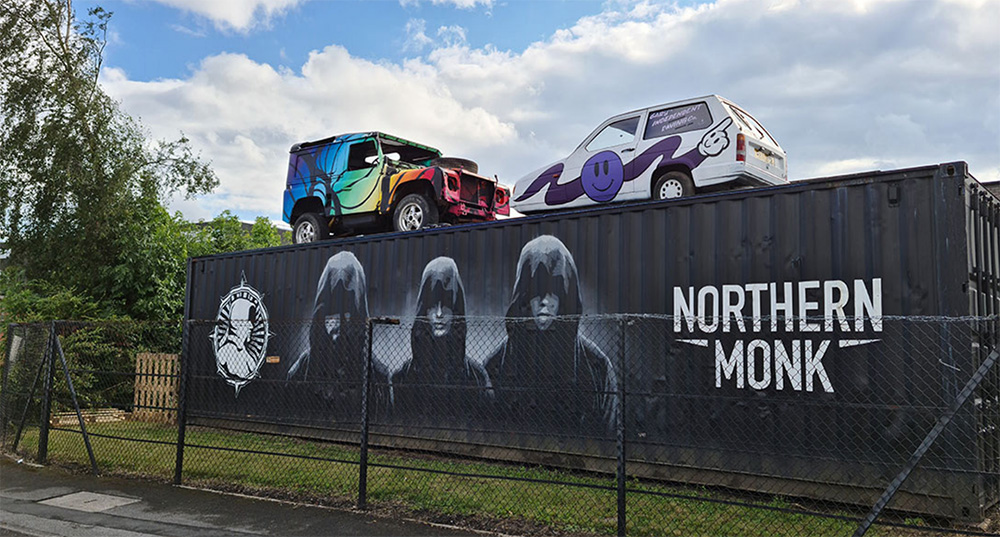 The reputation of Hop City has been built assembling the best purveyors of hop-forward craft beers on Earth, and this year was no exception. Representing the USA were: Other Half, Great Notion, Equilibrium, Vitamin Sea, Tripping Animals, Aslin, The Answer, Sierra Nevada, and importer Suds and Soda.
From the EU there was Aben, Apex, To Ol, Warpigs, Arpus and Stigbergets. Last but by no means least, was a fabulous contingent of UK Breweries including Northern Monk, Beak, Track, Buxton, Future State, Deya, Alpha Delta, Mikeller Brewpub LDN, Boxcar, Polly's, Amity, Pipeline, Pomona Island, North, Rivington, Newtown Park, Verdant, Floc, Bundobust, Neon Raptor, Donzoko, Overtone, Wylam, Zapato, Kirkstall and Mash Gang.
As is common with a Festival of this scale, each brewer had a double Linde machine, pouring just two of their beers at a time. Due to current travel restrictions, the overseas brewers were not able to attend in person, so Northern Monk staf and volunteers did an amazing job keeping the beer flowing.
Hop City operate an all-inclusive ticket, and this year, again due to COVID, the beers were dispensed into 100ml biodegradable plastic cups, which could then be poured into souvenir glasses if wanted. There was also a fantastic array of street food vendors to help soak up the beer. These were all reasonably priced and served very generous portions.
Weatherwise it wasn't great, but having decided to skip the afternoon sessions, we managed to avoid getting soaked, and spent a considerable time during both evenings chatting to old friends and plenty of new ones too. The atmosphere was buzzing throughout and there was a genuine sense that everyone was truly happy to be back in the festival environment at last.
As for the beer, what can we say? Well, it was magnificent of course! We made a conscious effort to hit the US brewers at the start of each session, in the expectation that these were the most likely to sell-out quickest. However, when we turned our attention to the UK and EU offerings, there was genuinely no noticeable difference in quality. Everyone had brought their A-game to Leeds.
Aside from a couple of minor negatives (i.e., no obvious glass washing facilities onsite and not enough sours available to balance out the hops), the whole weekend was incredible and a brilliant testimony to the Craft Beer Industry. Hop City is already pencilled in for us next year, so we hope to see you there and you enjoy it as much as we did.
Note: Hop City Podcast Coverage will be released in two instalments.