London Craft Beer Festival, Tobacco Dock, Tobacco Quay, Wapping Ln, London E1 2SF
As you know, we at TWICB, believe that a Craft Beer Festival is the pinnacle of the Craft Beer industry, and there's little doubt that a huge driving force in the UK behind Craft Beer Festivals is 'We Are Beer Limited'.
In the past few years, they've expanded from London, to Bristol, Edinburgh, Birmingham, and the Big Foot Festival. Considering their scope, it wouldn't have been a surprise if they had folded, as they were forced to cancel their roster of festivals (except for Bristol) in 2020, so we're very happy to see they are still standing in 2021.
LCBF was where it all started for them, and, after a few changes of venue in the early years, they've settled on Tobacco Dock in Wapping since 2018.
What a great choice. The venue is vast but atmospheric, broken down into small, connected spaces, on multiple levels. There's a mix of outdoor (daylight), indoor (brightly lit), and dark, slightly sinister underground vault areas, plus just about everything in between. You can freely wander from one to another, until you find the light and mood which suits you best.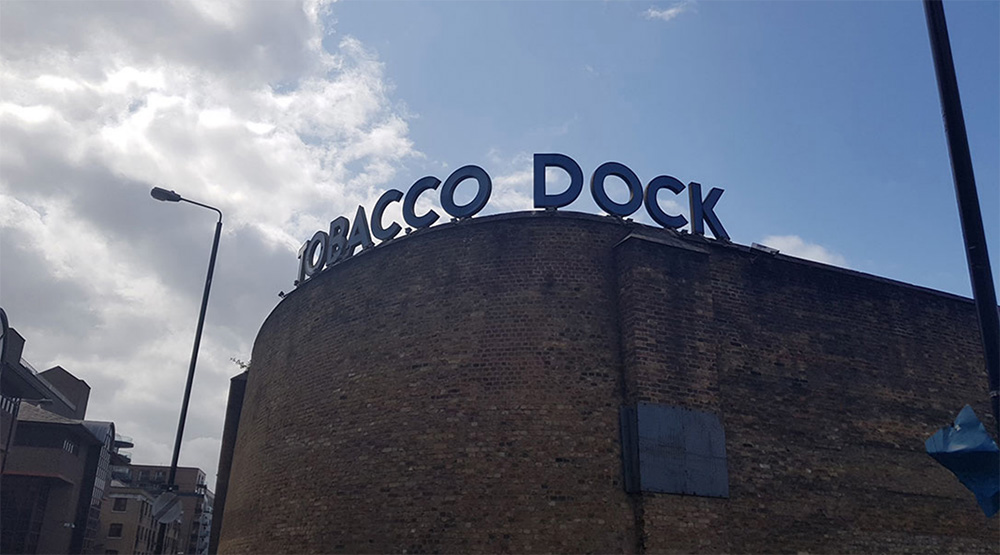 With so much space, Breweries can choose from a range of pouring situations, from having a single Linde pouring just two beers on a shared bar, through setting up their own bar pouring eight or more beers, right through to creating their own Taproom in a private vault, with the ability to bring in furniture, lights, plants etc.
A mention at this point must go to Brew York. They've built an extravagant 'Back to the Future' neon-lit diner experience in their vault. Full marks to them for creativity.
This year over 100 Breweries were represented and there was a brilliant mix, both large and small, from the UK and the EU. Normally, a few big-name US Breweries would have also taken part, but because of travel restrictions, they were absent this year.
To compensate, the Brewers Association European Head, Lotte Peplow (and her team), arranged the pouring of an enticing mix of bottles and cans sourced from a wide range of US Brewers instead.
The number of Breweries represented, along with the ability to pour as many beers at a time as they desired, meant that every beer style under the sun was widely available, from cask to lager, and everything in between. A true celebration of Craft Beer in all its guises.
Note:
You can listen to Rob's live recordings from LCBF in Episode 68 of the podcast