Little Earth Fest 2023, The White Horse Inn, Mill Green, Edwardstone, Sudbury CO10 5PX
On a lovely sunny Friday afternoon, the TWICB Team embarked on an adventure to explore the delightful world of mixed fermentation beers at a picturesque location in the beautiful Suffolk countryside. We were captivated by the charming villages we passed on our journey and pleasantly surprised by the secluded setting of the festival.
The event was hosted by Little Earth Project, a small brewery that specialises in farmhouse and wild beers crafted with foraged and organically farmed ingredients from the local countryside. Situated in close proximity to their brewery, the festival took place in an enchanting location, surrounded by nature.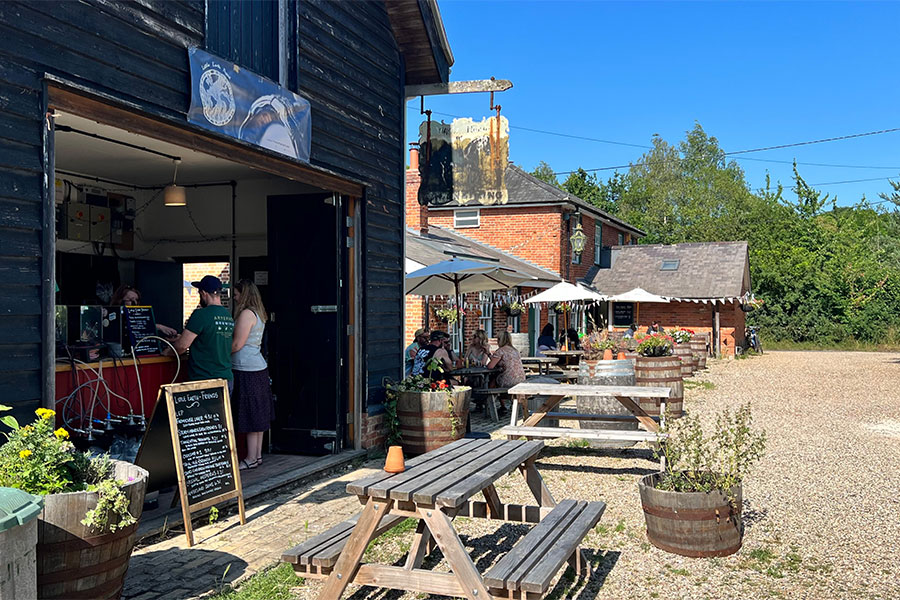 As we arrived, the sun was bathing the venue in a warm glow. We swiftly exchanged our cash for tokens and entered the garden area, where we discovered a spacious marquee housing 11 of the UK's finest and most intriguing breweries that wholeheartedly embrace the art of mixed fermentation brewing. From saisons to farmhouse funk to tart sours, the range of flavours was impressive.
The participating breweries included Burning Sky, Duration Brewing, The Kernel, Pastore Brewing, Mills Brewing, Crossover Blendery, Dolphin Brewing, Balance Brewing, Wilderness Brewery, Funk Dungeon, Holy Goat, and of course, Little Earth Project themselves. In addition, LEP also curated a bar featuring beers from additional breweries such as Ampersand, Trial & Ale, Dead Brew Machine, and Epochal Barrel Fermented Ales.
This festival was a haven for serious wild ale enthusiasts. If you didn't appreciate the allure of mixed fermentation funky sours, you had certainly found yourself in the wrong place! However, we learned that the adjacent pub did cater to those in need of a change of pace, offering a selection of more orthodox craft beers.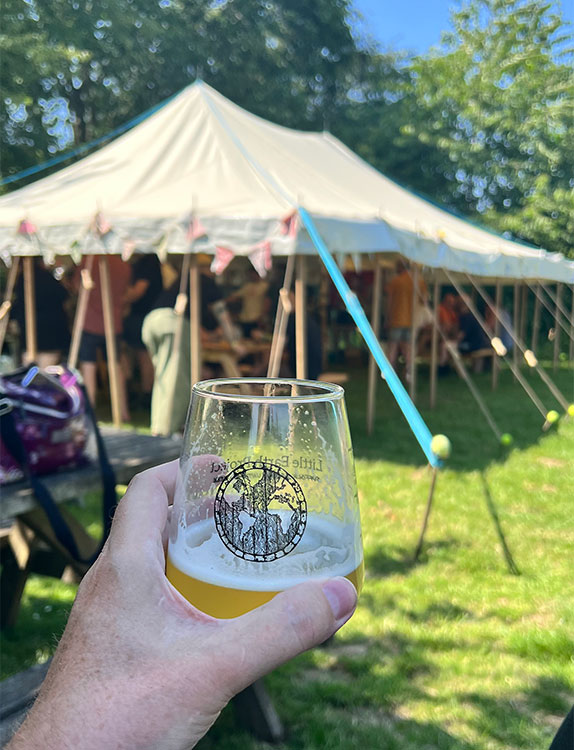 Despite its remote location, the festival boasted a great turnout, with most of the approximately 20 wooden tables in the grounds occupied by eager beer lovers. Additional seating was available outside the pub, allowing attendees to bask in the delightful ambiance. For those who desired an immersive experience, the premises also featured a spacious camping ground, with many visitors opting to stay for the duration of the festival, ensuring a short and safe journey back to their tents.
To satisfy our hunger, we had the pleasure of indulging in delicious offerings from the food wagon named Wagyu Burgers, which arrived after 4pm. Furthermore, the pub delighted us with mouth-watering pizzas, promptly delivered to our tables.
In summary, this was a truly remarkable and intimate event that the TWICB Team thoroughly enjoyed. It provided a fantastic opportunity to immerse ourselves in the world of mixed fermentation beers amidst the serene Suffolk countryside.