Green Duck Brewery, Unit 13, Gainsborough Trading Estate, Rufford Road, Stourbridge, DY9 7ND
Green Duck Brewery was formed by three friends in 2012, and hasn't looked back. It's now run by Alan, Alex & Nathan, and they're just celebrating their eighth birthday at their micro-brewery and taproom in Rufford Road, Stourbridge. They produce a range of beers, mainly for cask, but also for kegs, bottles and cans, aiming to produce hop-forward beers that are approachable and easy to drink. The Taproom is known as the Badelynge Bar, which means a row of ducks on the ground.
Their core range of beers focuses around Green Duck Blonde (4.3%), Session IPA (4%), American Pale (4.5%) and Zesty Pale Ale (3.8%), along with Proper Porter (4.4%).
There's a range of Monthly Specials, including Moondance American Pale (4%), Choc-a-Block Triple Chocolate Stout (5.2%), Evil Eye German Pale Ale (4.5%), Catlayst NE IPA (5.2%), Colossus Barley Wine (6.8%), Vanilla Sky Stout (5%), Super Nova American Pale (4.5%), Beerrero Roche Hazlenut Oatmeal Porter (5%) and Duck Dastardly Dandelion & Burdock Porter (5%).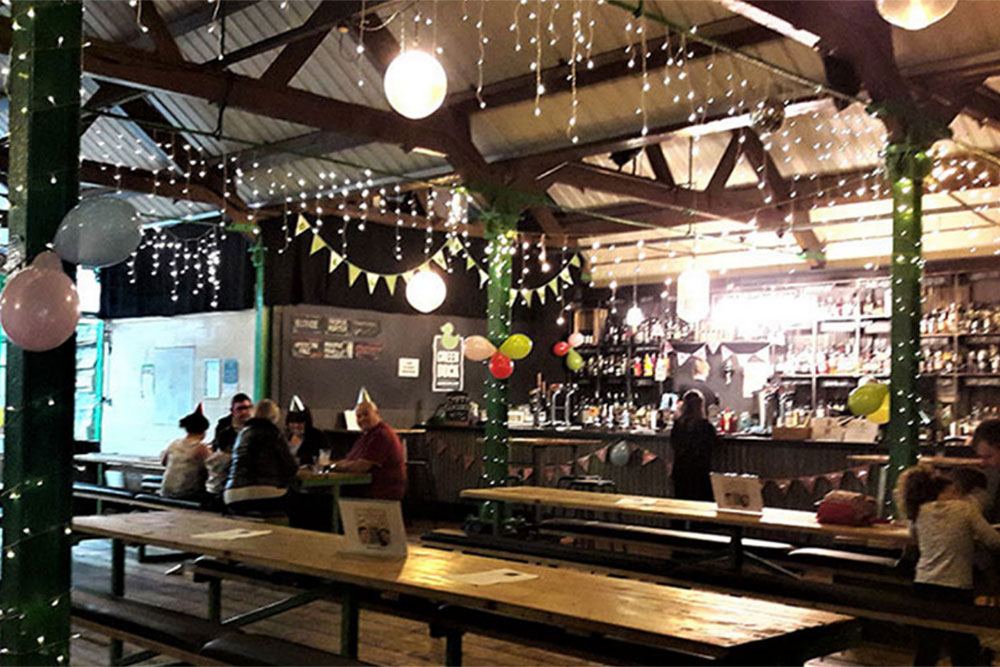 They're available throughout the West Midlands and in the wider area, both in pubs and from wholesalers. Green Duck also delivers locally and, last year, demand for small package beers saw the brewery invest by crowd-funding in a canning plant with Twisted Barrel Brewery of Coventry.
When we recently visited on a Friday afternoon, they were preparing for their eighth birthday celebrations. There was a full range of their beers available from 8 cask pulls and 11 keg taps, along with a wide range of gin, rum and other spirits. Sometimes, they have a couple of beers from other local micro-breweries. We sampled their Junkyard Romeo Galaxy Session IPA (3.8%) and Choc-a-Bloc stout. Seating is provided along long benches in an "industrial" warehouse environment, part of the old 19th century Hungary Hill Works. Cold bar snacks are also available. The 10-barrel brewery is clearly visible behind a plastic screen and the friendly staff will happily explain the brewing process and recommend suitable beers.
 The Taproom has regular live music events, with outside street-food caterers, and even screens classic films. Beer, cider and gin festivals are also held occasionally. If you're trying to find the taproom from Rufford Road, just look for the green door near the junction with Hungary Hill. The Taproom is open on Fridays (1600-2300), Saturdays (1300-2300) and Sundays (1300-1800). It's just a short walk from Stourbridge Junction railway station, with regular train services to and from Birmingham and Kidderminster.
The Green Duck Taproom is certainly worth a visit if you're in the Stourbridge area, and it isn't far from a good range of local pubs and bottle shops in the town centre.