Unit 4, The Shires, Essington Close, Lichfield, Staffordshire WS14 9AZ
Trinity Brew comprises three like-minded individuals with the aim of bringing you World-class craft beer from the heart of England. Set up in 2020, Rob, John & Mike brew a range of beer styles in their 8-barrel state-of-the art, all-singing, all-dancing "Gucci" micro-brewery at an industrial estate just outside Lichfield city centre. They've cut their teeth working in other local micro-breweries and produce a range of new-wave craft beer from IPAs to Impy stouts and everything in between, available in cask, keg and cans. They chose the name "Trinity", firstly because there's three of them and secondly, because they're in Lichfield, famed for its 3-spired cathedral.
When we recently visited their taproom, they were preparing for Christmas, offering their "beer for baubles exchange" for decorations for their "very bare" Christmas tree.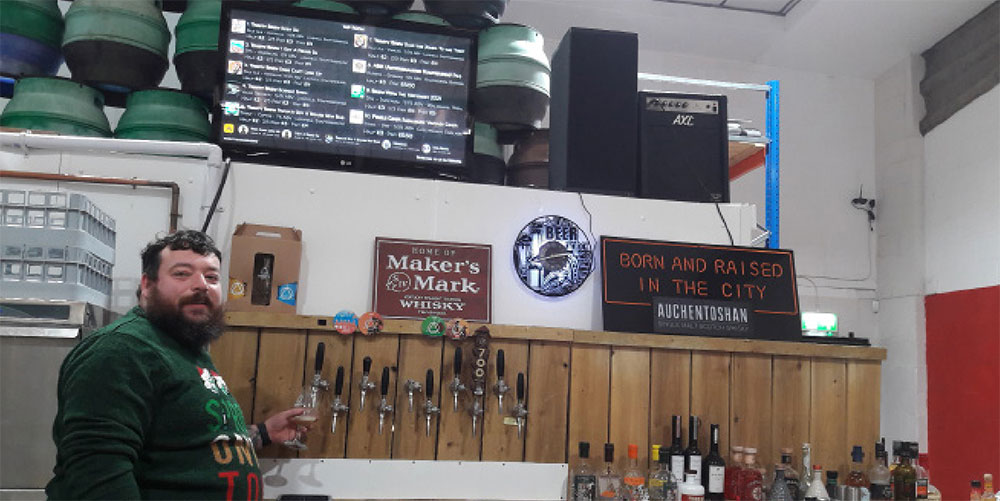 Ten craft keg beers were available, of which we sampled Papua's Got a Brand New Bag coffee stout and Shes-on 3.8% session beer. Other beers on tap included I Get a Round In (6%), Dogs Can't Look Up (5.5%) and Said the Joker to the Thief (5.5%). We also sampled their new Science Bitch – a 4.1% raspberry flavoured seltzer (hmmm?).
Canned beer was also available to take-away from their well-stocked fridge, including guest beers from other local micro-breweries such as Attic, Glasshouse, New Invention & Dig Brew, as well as from further afield, including DEYA & Fallen Acorn.
The taproom can be found on a small industrial estate just off Birmingham Road, about 5-minutes walk from the city centre and main railway station. It's children and dog-friendly (they've got two brewery dogs as employees!) and is usually open once or twice a month at weekends (check their Facebook page for opening times).
The taproom seats around 100-120 folks, and in the summer you can enjoy the outside "car park" experience. It's also available for private functions and has a regular home-brew club. It's well worth a visit, and on the way back to the city centre you can also visit the Bitter-Suite and Beer Bohm micro-pubs which usually have a Trinity beer on cask.