Beach Street Beer Festival, Beach Street, Micklegate Road, Felixstowe IP11 2GN
I'd imagine that most people have heard of Felixstowe, but not many may have actually been there, as it's tucked away on the east coast in rural Suffolk and sandwiched between two river estuaries. This was the location on Saturday however, of a much understated craft beer festival. One that punched well above its weight.
The festival was organised by Hopsters, an independent chain of bottle shops, with premises in Ipswich, Chelmsford, Leigh-on-sea and Felixstowe itself, although the latter is more a seaside bar than a shop. It was held at The Shed, where a covered market usually takes place at weekends, and it proved a great location, the sea being less than two minutes away.
The sun was shining when we arrived, and Beach Street, where The Shed is located, was buzzing, with lots of street food vendors and independent small retailers along its length. The Shed is a covered area with plenty of seating, but most people gathered outside in an additional seating area so they could enjoy the weather.
An entrance fee of just £5 let us check out the breweries inside. Although there wasn't a large number of craft breweries to choose from, most of them had brought their A-game and were pouring their very latest beers. This was a nice touch, as it would have been all to easy for breweries to bring their go-to core beers to such a small festival. I mentioned this to Ed, the organiser and he said this was a conscious decision, and he specifically requested the latest and best beers were on show.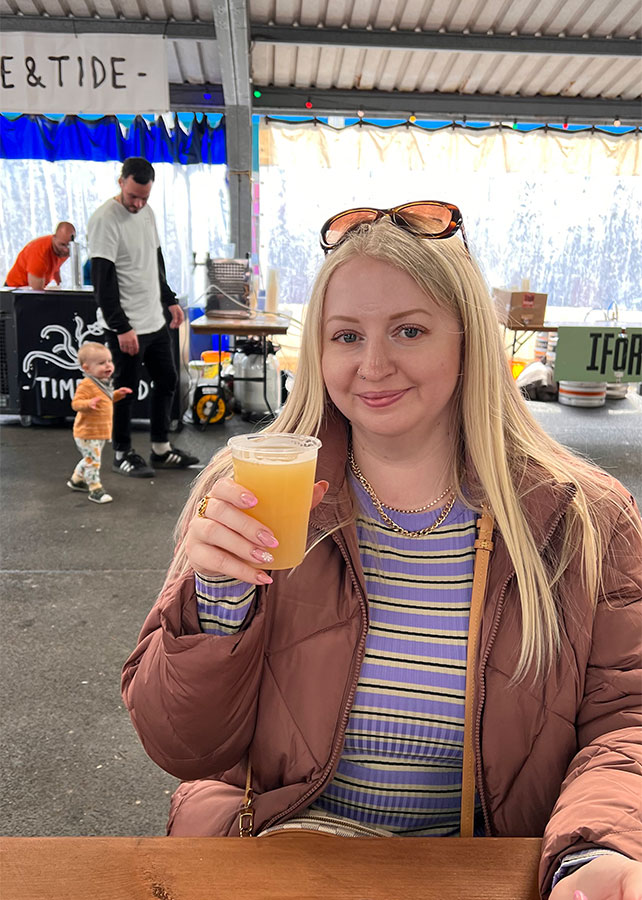 Those pouring were Siren Craft, Verdant, Burnt Mill, Phantom, Radio City, Little Earth Project, Time & Tide, Kraft Braumeister & Ilford Cider.
Although each brewery only had 4 taps, they were on rotation and a different beer was generally tapped to replace the expired keg. Highlights of the day were the 3 latest Verdant beers Sundialler 5% pale, De-Bleaker 6.5% NEIPA and their latest 9% DIPA, Light Through The Veins. Little Earth Project's 'In A Suffolk Ditch' was a sensational fruited sour, Phantom's 'Baggage Claim' was a superb DIPA, and Radio City's 'Motivation' slipped down a treat.
This is the second year this festival has run and I sincerely hope it is back again in 2024.