Verdant Brewing Co., 30, Parkengue Kernick Industrial Estate, Penryn TR10 9EP
If you have been a fan of UK Craft Beer for a while, it is a pretty good bet that at some point (unless you live in the very far Southwest of Cornwall) you have wished that Verdant was a bit easier to get to.
Verdant are based just outside the picturesque village of Penryn, 33 miles from Land's End. As a result, unless you happen to be holidaying in Southwest Cornwall, any visit you make to Verdant is an intentional trip, verging on a pilgrimage. The owners realise this, and so they have made every effort to make the Taproom experience special, from the welcome that you receive, to the outstanding choice of beer and food, to the environment and entertainment, even as far as the view you behold on your way to the bathrooms!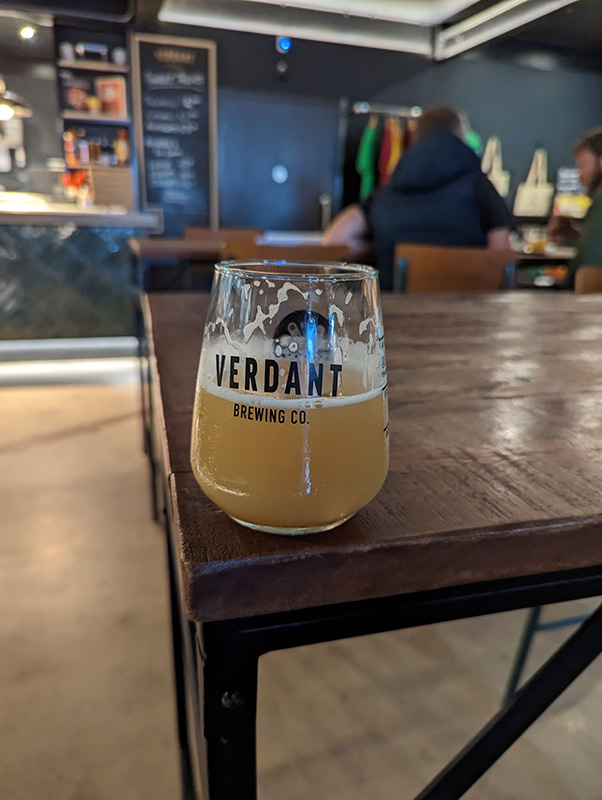 The Taproom was built during lockdown, funded by an investment round, and is as nice an environment as any you will find within the UK Craft Beer scene.
Although the Taproom occupies a corner of the Brewery unit, it was built to be an
enclosed space (albeit with windows onto the Brewery itself) heated by a wood- burner stove in winter, and containing a high-quality sound system for DJs and other entertainment. Inside there is a combination of high-top and regular tables that can easily seat 100 people. On the bar there are 16 keg and 4 cask beers, most of which were Verdant's own, with a few Gipsy Hill guest beers thrown in at the time of my visit.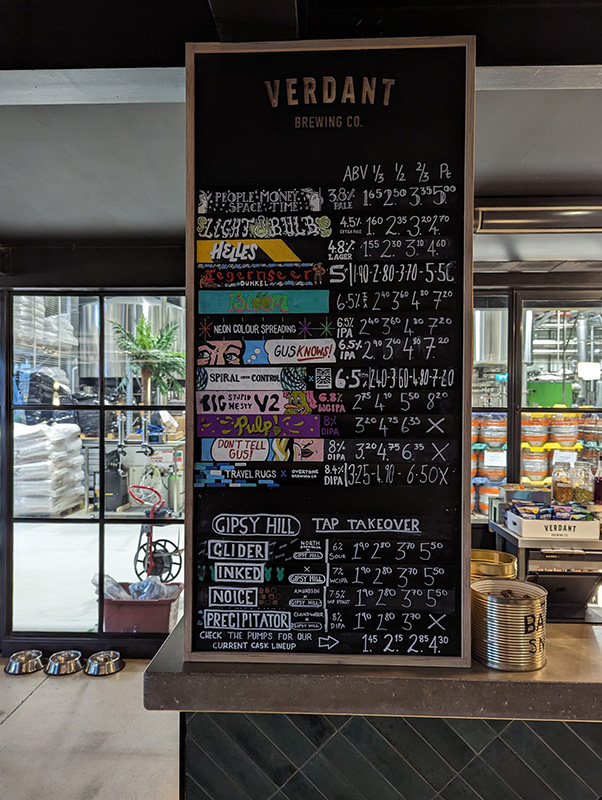 Behind the bar there is a large pizza oven, that was turning around pizza orders at impressive speed.
Although it was a very wet day when I was there, normally the weather is decent in Cornwall, and as such there is outdoor seating for at least another hundred people, under large sunshades.
Just about every weekend there are DJs booked on Friday or Saturday nights, as well as a variety of other live entertainment.
If you have yet to experience a trip to Verdant, we strongly recommend that you get your diary out and start plotting a trip to Penryn without delay!