Thornbridge Brewery Taproom, Riverside Brewery, Buxton Rd, Bakewell DE45 1GS
Your intrepid reporter found himself in Bakewell in the Peak District a couple of weeks ago on a beautiful sunny day. After walking around this delightful market town for a while it was decided that refreshment was in order. A short drive from the town centre was the large and very popular Thornbridge Brewery Taproom.
The brewery taproom is housed in its own unit on a modern industrial estate. The brewery itself is located on the area occupying a couple of large industrial units close to the taproom. It is clear that Thornbridge are certainly the main business on the estate with their brewery, shop, taproom and storage areas dominating the landscape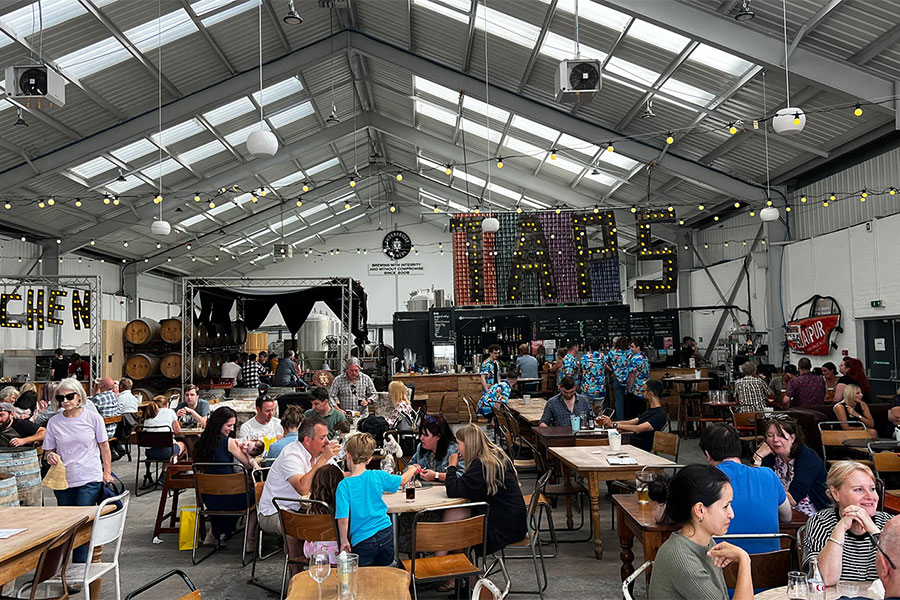 The taproom itself has a large outside seating area, both covered and uncovered – for those that prefer the fresh air. Inside there is seating for perhaps 150-200 people in a large and spacious area with wooden tables and chairs.
The taproom was particularly busy on this Saturday lunchtime but we still managed to find a table with no fuss. Bookings are encouraged online but walk-ins can usually find a table without a problem. The bar had 16 keg taps and 6 traditional hand pumps. Apart from a local cider, all of the taps and pumps were serving Thornbridge beers. Many of the beers were well known as they are available in supermarkets, but it was nice to drink them fresh from the source.
I enjoyed a pint of hand-pulled Jaipur (what else?) and it slipped down a treat. I even managed a 1/3rd of their delicious 12% Imperial Stout – the well named 'Necessary Evil'.
Food is available in the form of delicious pizzas cooked on the premises and delivered direct to your table.
The Thornbridge Taproom is open 7 days a week from noon every day.