Sureshot Brewing Taproom, 4 Sheffield St, Manchester M1 2ND
The Sureshot taproom is nestled in an arch under Piccadilly station a short walk from Manchester Town centre, serving brewery fresh beers from their brewery next door. They are in excellent company with both the Cloudwater Brew Co. and Track Brewing taprooms all within a leisurely stroll.
Stepping inside the taproom, one is embraced by the understated charm of an 'archway' interior, a design choice that immediately puts any craft beer enthusiast at ease, evoking a sense of welcome familiarity.
The whole place exudes a rustic allure, artfully adorned with Sureshot's iconic red and white logo, brought to life through numerous vinyl tapestries and buntings that decorate the space. At one end, a sizeable screen enhances the establishment, offering patrons either a melodic music channel or live sports events.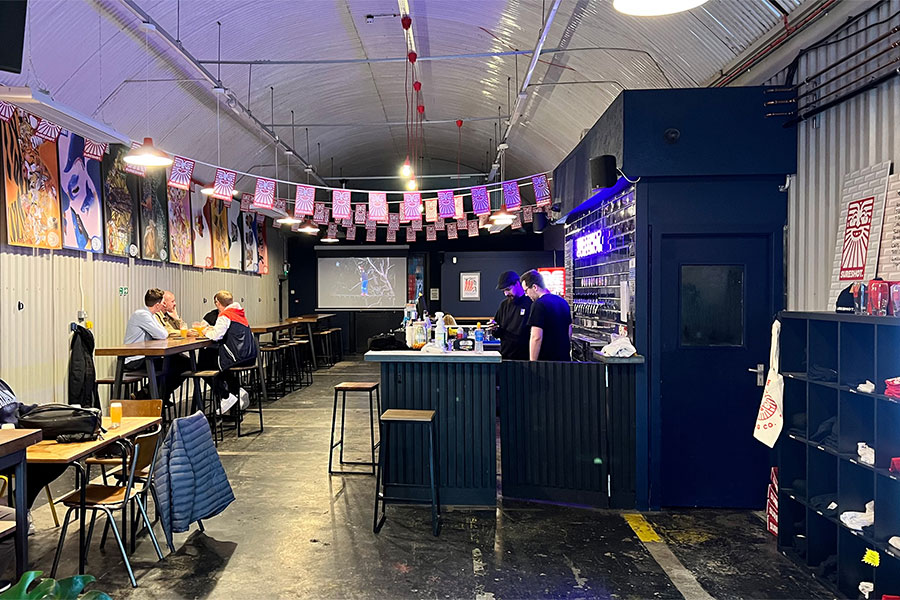 There are plenty of wooden tables and chairs in the venue that can probably easily seat 80+ people with a little extra seating available outside.
The bar has 10 keg taps of which about half served Sureshot's own deliciously crafted beers. During our stay there were guest beers from Holy Goat, Little Monster Brewing and Two Flints Brewery and guest beers are rotated regularly.
Sureshot's 'Teddy Boys Don't Knit and Small Man's Wetsuit were tasting particularly fresh and flavoursome on the day. For the non-beer drinkers, cocktails, mead, spirits and wine are available. The beer can be soaked up with food delivered by their food partners.
Having visited on a Saturday, shortly after opening hours, we observed the tap- room's ambiance gradually unfurl as the day progressed—a lively atmosphere that our photographs could hardly do justice to.
Overall a very pleasant experience and well worth a visit – Sureshot beers are excellent and taste even better fresh from their taproom.
The Sureshot taproom is open :
Wednesday: 4pm – 11pm
Thursday: 2pm – 11pm
Friday: 12pm – 11pm
Saturday: 12pm – 11pm Sunday: 12pm – 9pm
No bookings – just turn up and enjoy great beer.