Radio City Social, 35 Viaduct Road, Chelmsford CM1 1TS
Radio City Social is the newly opened taproom owned by Dan from Radio City Beer Works – the local craft brewery in Chelmsford. The name owes its roots to Guglielmo Marconi who developed the concept of radio at the turn of the century in the local area.
This traditional style taproom occupies two railway arches under the viaduct close to Chelmsford Railway Station in the heart of the city. It is located just a few arches down from The Ale House, another craft beer taproom, so the area is now a haven for craft beer lovers.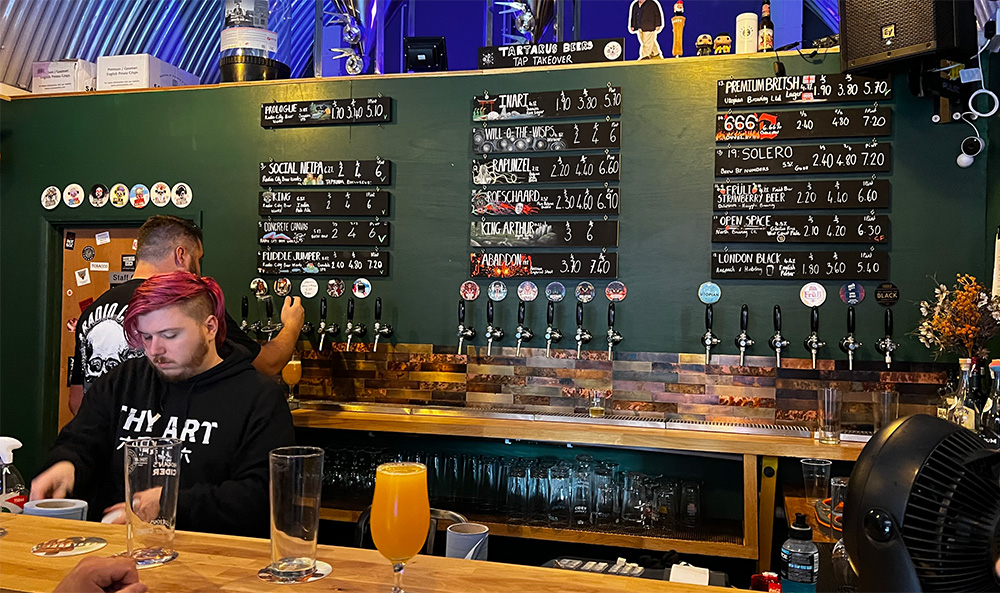 There are several tables outside the taproom, whilst inside there are perhaps 8-10 tables. These are an interesting mix of styles and sizes, and range from a high large wooden table that can seat ten people around it, to low comfy sofas and smaller tables for just 2 people. The lighting is purposely dimmed which gives an intimate atmosphere for drinking.
The bar itself boasts 18 taps – 6 serving beers from Radio City Beer Works and 12 guest beers. During our visit 6 of the taps were taken over by Tartarus Beers, plus guest beers from Brew By Numbers, Duration, Utopian, North Brewing and Anspach & Hobday. Wines and spirits are also available.
The 6 brewery owned beers were very fresh and tasted delicious – their DIPA, 'Puddle Jumper' was superb! I was also tempted by the Tartarus beers and managed to avail myself of their 17.5% Imperial Stout which slipped down a treat. The staff were friendly and well informed of the beer choices available. We understand that the venue also has an events space for live music, games, quiz nights & competitions, so it's worth keeping an eye on their social media feeds.
No food is available but customers are welcome to order from local takeouts and have them delivered to the taproom. Radio City Social is a great little taproom and well worth a visit. It is open six days a week – Tuesday through Sunday. From 3pm (from noon Fri, Sat, Sun) until late.