Left Handed Giant Brewpub, Hawkins Ln, Redcliffe, Finzels, Bristol BS1 6EU
Although the TWICB Team were in Bristol last weekend for the Bristol Craft Beer Festival it would have been sacrilege not to avail ourselves of the delights of the Left Handed Giant Brewpub. Located near the city centre and a 10-15 minute stroll from Temple Meads station, the LHG Brewpub is an imposing sight overlooking the historic Bristol Harbour and connected to Castle Park by the wonderful Castle Bridge.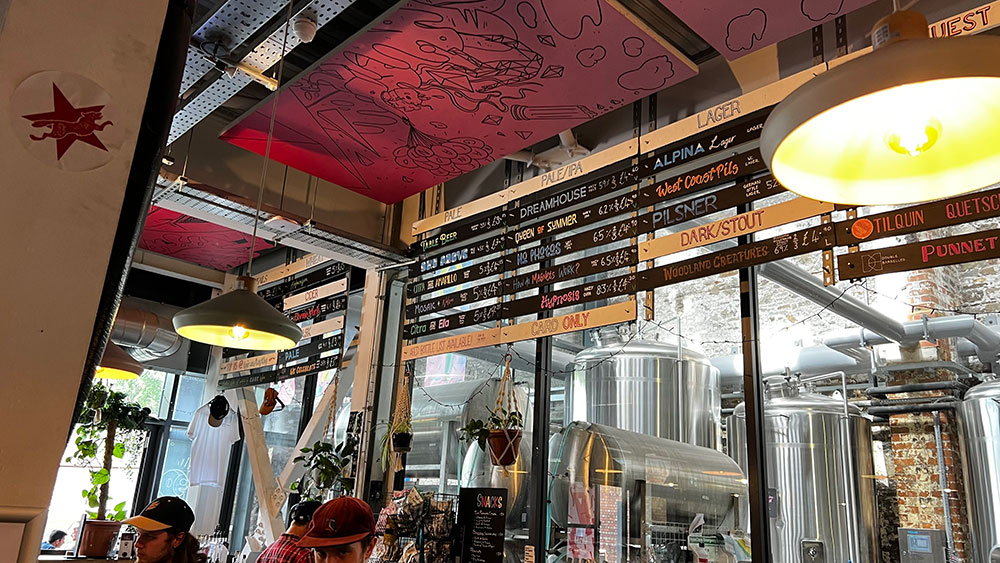 It was hot and sunny when we arrived on the Friday afternoon, and most tables by the river were already taken. There were plenty of drinkers basking in the heat and all in high spirits. I say outside but in reality the 'outdoor' space is covered by a very high ceiling which certainly helps during the unreliable British weather.
We sat further inside, which is a vast open space with lots of wooden benches and tables. One side of the brew pub is all glass allowing a full view of the working brewery. The inside area is huge with an additional floor upstairs also overlooking the river. The premises is dog and children friendly, although no children allowed after 8pm. The beer selection was impressive featuring a large selection of 14 LHG beers as fresh and as tasty as can be. There were also 10 guest taps on offer, serving a selection of Tilquin beers together with a beer from Põhjala and Double Barrelled. We satisfied ourselves with 2/3rds of Dreamhouse and Citra & Amarillo from the LHG taps.
To complement the craft beers, delicious freshly cooked pizzas are available from Mission Pizza who occupy space next to the main bar. We could have well stayed in the taproom all afternoon and evening but, reluctantly, we left after just a couple of beers to make our way. However we will definitely be back. If you are planning a visit to Bristol then you should definitely navigate your way
here – you won't be disappointed.
The Brewpub is open 7 days a week – no booking necessary – just turn up.