Fownes Brewery, Unit 2, Two Woods Trading Estate, Talbots Lane, Brierley Hill, West Midlands DY5 2YX
Fownes is a 3-barrel brewery established in 2012 by brothers James & Tom Fownes. They have the aim of bringing together finely crafted ales and porters with storytelling of epic proportions, with a quest to deliver epic Dwarfen Ales that take pride in our heritage while embracing innovation. Their beers are based on the Dwarfen fantasy and the world of King Korvak and his new brewmaster, Broddr Firebeard. The Dwarfen Brewery was originally established at the Jolly Crispin pub in Upper Gornal, but moved to Brierley Hill at the end of 2019.
Their wide range of beers cater for every kind of palette, from light hoppy beers and citrus-flavoured pale ales, to award-winning dark ales, porters and stouts. The most popular and award-winning beers are King Korvaks's Saga (which ranges up to 9%!) and The Elephant Riders – a stampeding pale ale with a large dose of Mosaic hops. Other beers include Iron Tusk Dwarfen Mild (4%), Korvak's Restoration Milk Stout (4.2%), Upper Gornal Pale Ale (4.2%), Frost Hammer Pale Ale (4.6%) and Visions of Heresy Rye IPA (5.7%). Most beers are available in cask form, but some are also in craft keg form or in bottles, for collection from the brewery or home delivery.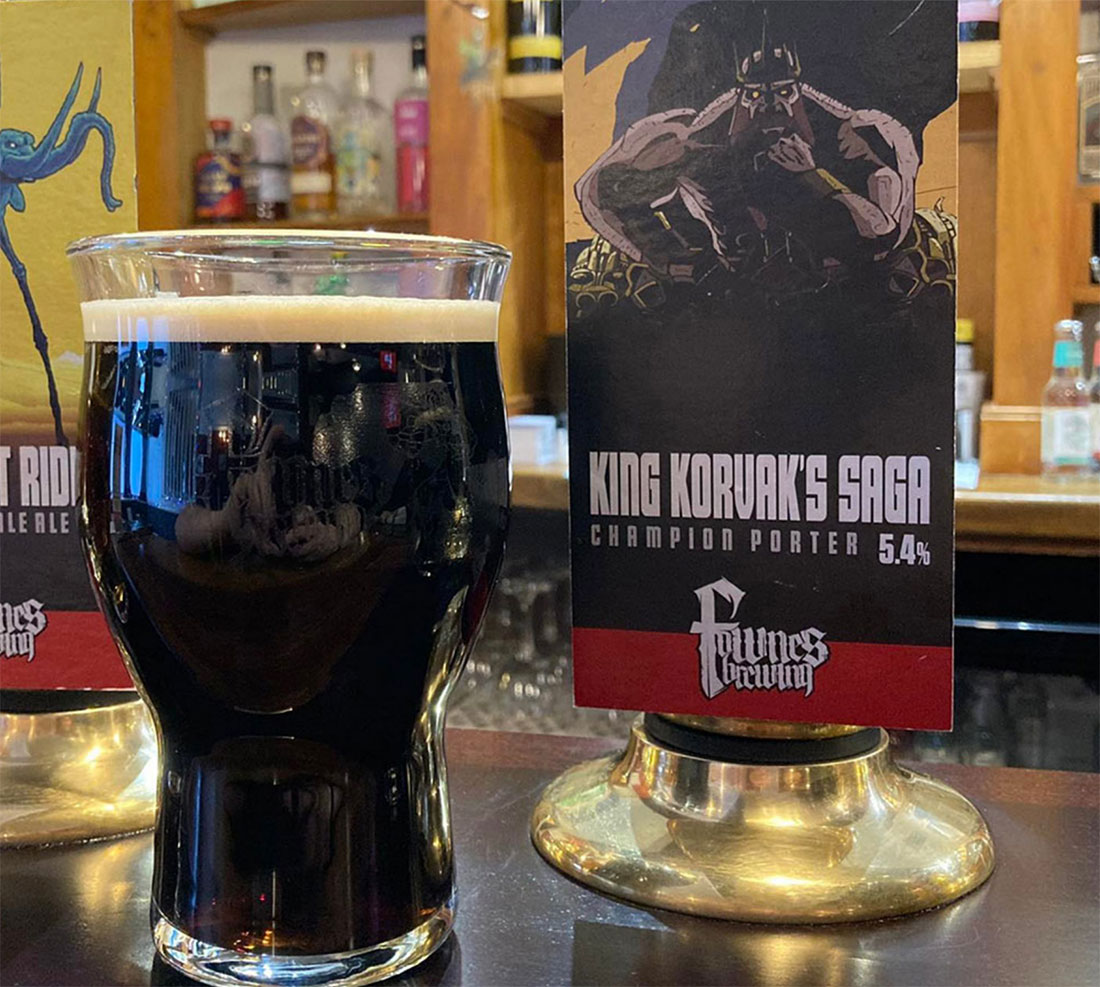 The taproom forms part of the brewery – you're actually sitting in it! The seats are made from old key-keg casks, arranged around wooden tables and beer barrels. When we visited last December, four keg beers and one cask ale were available, including special seasonal beers which had just been brewed. I must say that a glass of Hand of Doom IPA (8%) was deliciously smooth and dangerously drinkable! And a glass of Frost Hammer hit the spot as an excellent Christmas Pale Ale. We found the taproom to be welcoming and friendly, with several groups of "regular" customers. The Fownes brothers usually serve the beers in individual glasses. The taproom is usually open on the last Saturday of the month, but you should check opening times with the brewery (07790-766844).
The brewery and taproom can be found on an industrial estate just off Mount Pleasant, between Quarry Bank and Brierley Hill. Regular bus services are available and the nearest railway station is at Cradley Heath. Another reason for visiting Fownes brewery is that just along the street is the Bull & Bladder (or strictly-speaking, the Vine), which is the taphouse for the local Batham's brewery.
Fownes have recently acquired their own pub in Burton-upon-Trent – The Old Royal Oak in Market Place. Their draught beers are also regularly available in local bars and micro-pubs, including the Oil Basin Brewhouse in Worcester, Wellington in Bennetts Hill, Birmingham, Weavers and Bear & Wolf in Kidderminster, and Bird in Hand at Wordsley.
Enjoy the Dwarfen saga!