FLOC.Brewing Co., Wincheap Industrial Estate, Cotton Road, Unit 7A, Canterbury CT1 3RB
The TWICB Team visited the Floc Brewing Co. Taproom last Friday afternoon when the weather was gloriously hot and sunny. The Taproom is situated in the south west area of Canterbury, about a 15 minute walk from the Cathedral in the city centre. It is located in a secluded area on a modern industrial estate, as many craft breweries are. Once through the main doors – elegantly displaying dazzling FLOC beer graphics, the place opens up into a very large area with ample seating both inside and out at long orange benches.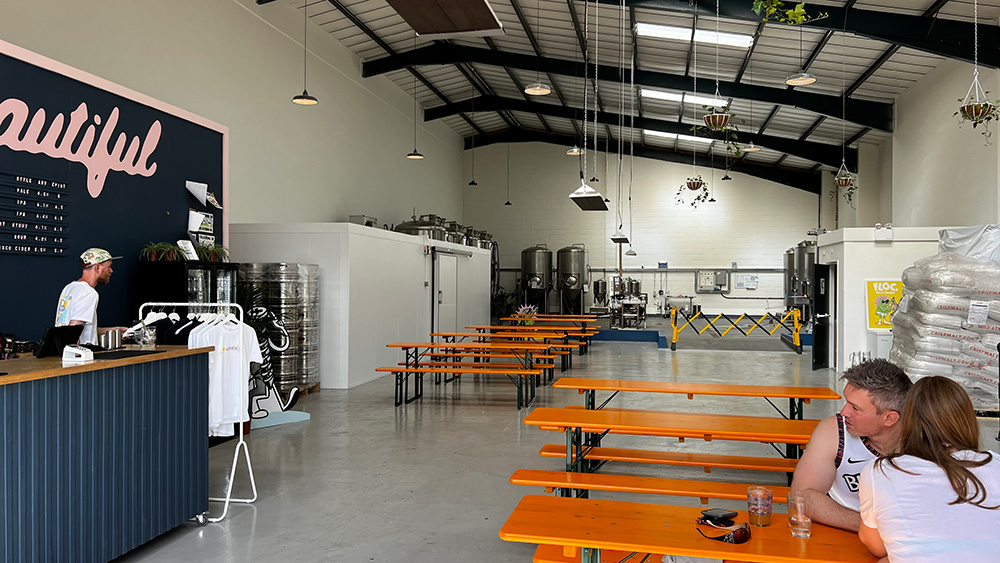 There is plenty of room both inside and out and we hear that on event nights the taproom can accommodate up to 200 people, which means that on a typical visit there's plenty of room for everybody. Children are clearly welcome as we noted several high chairs available as well as nappy changing facilities.
The bar is clean and efficient and the staff friendly, offering advice on the types of beers available. There are 12 keg taps on display, mainly serving fresh FLOC. beers – with a couple of taps reserved for guest beers and a cider. All the FLOC. beers were delicious and, surprisingly, the pick of the bunch for us was their 3.8% table beer called 'Warm Shade' which slipped down a treat in the sunshine – amazing depth of flavours for such a low ABV beer. Other brews included several pales, three IPAs, a lager and an 8% DIPA. The guest beers included a Kernel session stout and an Exale sour.
Food is available from an on-site food truck situated just outside the building, and during our visit they served delicious freshly made pizzas – the perfect accompaniment to craft beer – with vegan options.
The taproom is open Friday and Saturday from 1pm until 10pm and from noon until 6pm on Sunday. The FLOC taproom is a must visit for any craft beer lover visiting Canterbury.