Docks Beers Taproom, The Church, King Edward St, Grimsby DN31 3JD
Docks Beers are found in an impressive converted church not far from Grimsby's historic docks.
The taproom is situated within the same building as the brewery, overlooking it and granting great
views of the fermentation vessels.
Space is not really an issue at Docks Beers as it has a large downstairs section, and outside area, as well as a huge area upstairs known as Docks Academy, which is open when not being used to stage events.
Both floors boast 12 keg taps and a couple of cask beers, together with a large selection of canned craft beers from around the world. Wines, spirits, ciders and soft drinks are also available.
When I (Steve) visited Docks Beers the keg selection was made up mostly of Docks Beers, together with several beers from Atom Beers from just over the River Humber. A large screen above the downstairs bar shows which beers are available, including those from the fridges.
Brewery Tours are now back on the menu and last about 90 minutes and include a tasting session of 6 different styles of beer.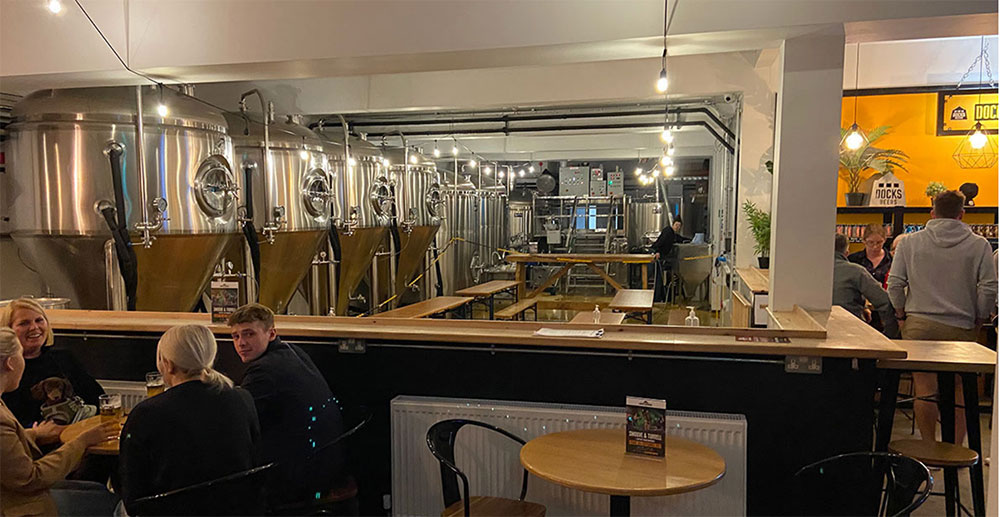 The taprooms are open 7 days a week from noon until late with 6pm closing on Sundays. At weekends they play host to some of the best street food vendors in the North of England and I can vouch for their high quality.
Docks Academy is used regularly for music and comedy events and is a fantastic venue for this, with its large stage, long bar and spacious floor area. Unfortunately no events were on during my visit but I imagine it would be brilliant to watch live music or a comedian, while drinking top-class beer and enjoying the great food on offer.
All things considered, and even without entertainment, my visit to Docks Beers was memorable and I recommend the experience.