Spilsbury & Jones Brewing Co., Orleton Court Farm, Stanford Bridge, Holt WR6 6SU
We recently toured rural Worcestershire to visit a few farmyard micro- breweries, and we soon came across Spilsbury & Jones at Orleton Court Farm in Orleton Lane, at Stanford Bridge, near Great Witley on the banks of the River Teme. The micro-brewery and taproom lie down a country lane just off the B4023.
A chance meeting between hop farmer Tom Spilsbury and Master Brewer Tony Jones in 2007 at a local show led to the birth of Spilsbury & Jones Brewing Company. Tom & Tony began to produce beer in small batches using Tony's extensive brewing experience and hops grown on Tom's farm.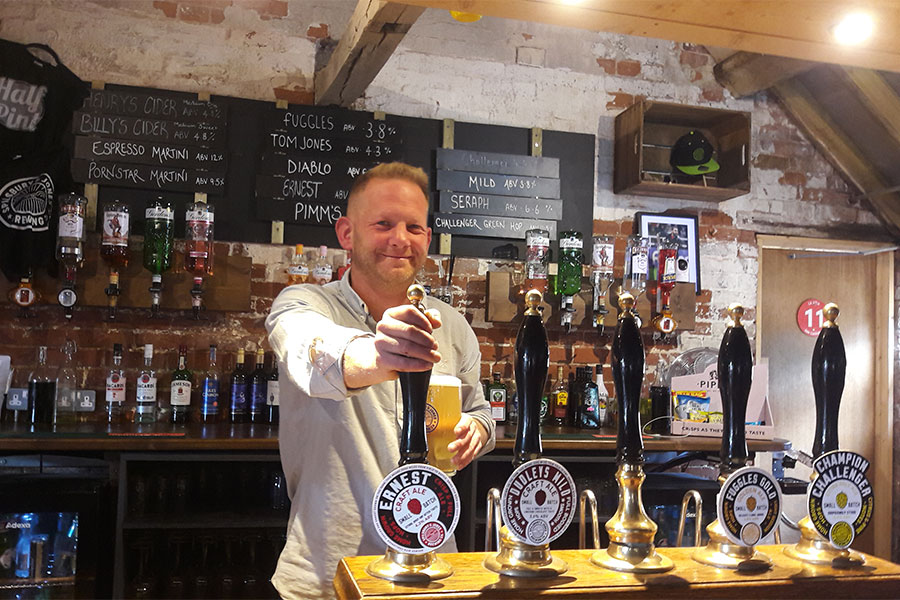 Tom already supplies his Fuggles hops to Timothy Taylor's brewery at Keighley and often quotes the words of a wise man, "Let us Drink Beer". They bought a 1,000 litre (5-6 barrel) micro-brewery and installed it at Orleton Court Farm in 2017. Bucking the craft beer trend, they began their brewing story by creating a real craft English lager. They also set up a "pop-up" pub, the White Pheasant, and later established the main taphouse in 2021 after Covid restrictions were lifted. A wood-fired pizza kitchen was added later, completing the sustainable "single-estate" vision for this enterprise.
At the time of our visit, some eight beers were available, including several cask ales served from handpumps. They included Fuggles, a 3.8% Golden Ale; Ernest, a 4.3% Craft IPA; and Challenger, a 6% Extra Pale Ale. Also on offer was Dudley's Mild, a 3.8% mild ale recalling the time when folks from the Black Country came here on their hop-picking holidays. Most of the beers are named after varieties of hops. Keg beers included Tom Jones, a 4.3% craft, pilsner-style lager, brewed with Challenger & Fuggles hops; Diablo, a 6.6% dark lager; and Seraph, a 6.6% hazy pilsner. Bottled beer is also available to take away or order from the on-line shop, along with T-shirts and baseball caps.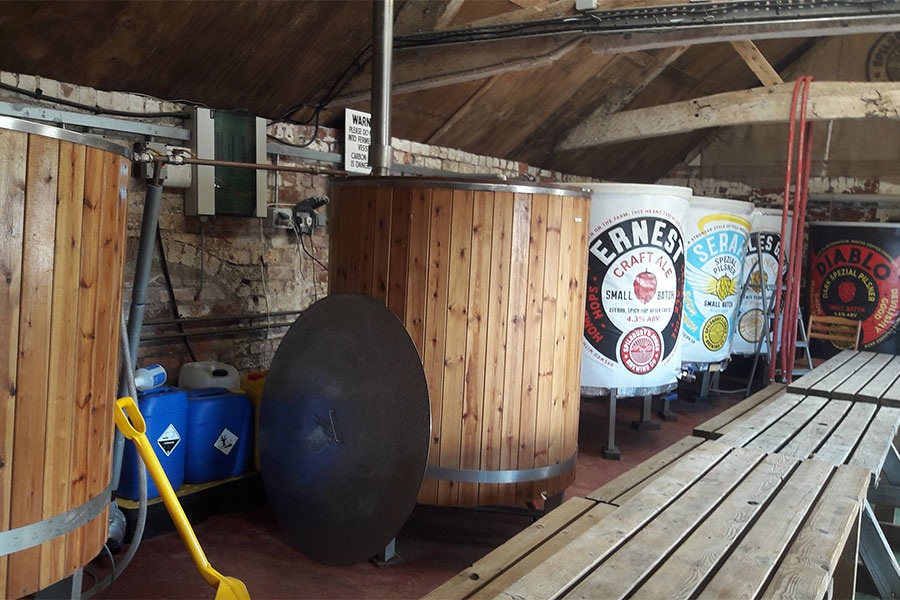 There is quite a complex at this farm, with seating and tables inside and out, a 1,000 capacity function room, children's area and pizza kitchen. There's a huge television screen for showing sports, and there's a large campsite close by. The taphouse is usually open on Fridays (1700- 2300), Saturdays (1200-2300) and Sundays (1200-1600). There's often live music on Saturdays and special events are sometimes held, such as the Big Summer Party (August) and Oktoberfest (October).
Spilsbury & Jones' beers are available at some local pubs in Worcestershire, including the Red Lion (Clifton-on-Teme), Red Lion (Evesham) and Green Dragon (Bishops Frome), as well as further afield at the Good Intent in Birmingham. They also supply beer for the nearby Shelsey hill climb and bottled beers to local bottle shops.
Spilsbury & Jones is located at Orleton Court Farm in Orleton, near Stanford Bridge, just off the B4203 road from Great Witley. It's well worth a visit if you're in the area.
Steve James © September 2023