Riverside Beer Festival, Brew By Numbers, Morden Wharf, Greenwich Peninsula, London
With The Riverside Beer Festival coinciding with Hop City in Leeds, it was always going to be a tough decision which one to attend. We enjoyed both festivals in 2021 but that clearly could not happen this year.
Being based in the south of England, it made sense to make the trip to Brew By Numbers' new (ish) headquarters to soak up the sun! A scorching hot day with hardly a breath of wind, fantastic beers, live music, tasty food, great company made this a real party atmosphere in this truly iconic location overlooking the Thames Estuary.
A wonderful selection of different breweries from the United States, Europe and the UK were here to show off their latest beers in a fabulous setting.
I've been to countless Craft Beer Festivals over the past few years, each with their own unique charm, but this event, hosted by Brew By Numbers, was right up with there with the best of them. Everything seemed to come together perfectly to make it successful, and the fine weather was an added bonus.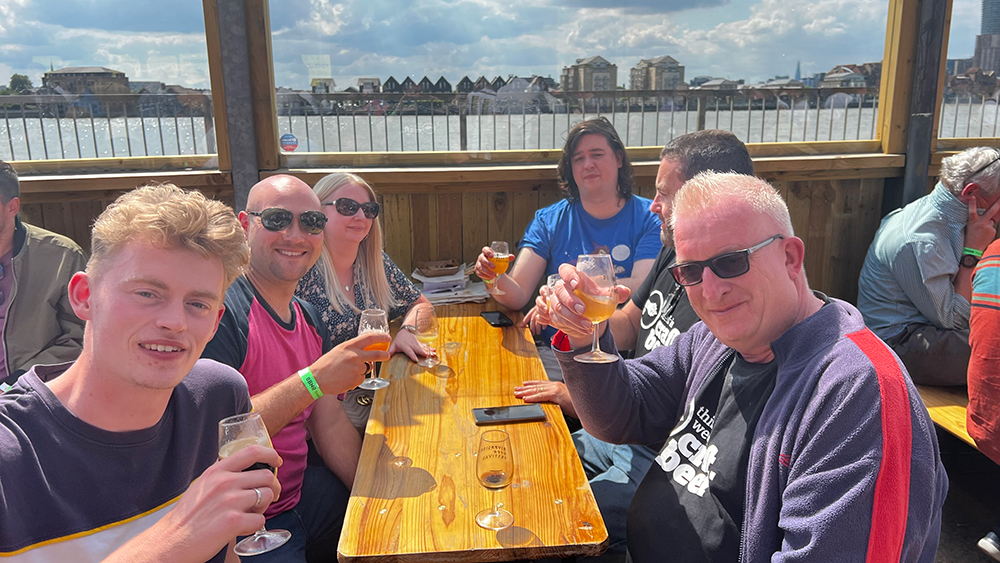 We attended the afternoon session on Thursday 2nd June at the start of the long Jubilee Weekend, part of a group of 7 thirsty punters, and what a time we had. Sunshine and location aside, this event would have been nothing without great craft beer, and Tom (from BBNos) and his team pulled out all the stops in curating an awesome selection of breweries all at the top of their game.
US icons, Finback, Other Half, Evil Twin, The Bruery, Jester King, Aslin and Burley Oak were flaunting their newest beers. Europe was represented by Gueuzerie Tilquin, Galway, L'Ermitage, Hoppy people and a fabulous Romanian Brewery, Bereta Brewing Co. The UK breweries were too numerous to mention and all were pouring their shiny new beers.
All beer styles were fully represented to the full with sours and imperial stouts particularly evident, including heavy hitting stouts with abvs in the late teens and early 20s!
We're already looking forward to next year's event and would not miss it for the world.