Nothing Bound Brewery & Taproom, Chapel Farm, Heightington, near Bewdley, Worcestershire DY12 2XY
Nothing Bound Brewery is located down a leafy lane in the middle of the countryside at the idyllic Chapel Farm in Heightington, near Bewdley. The brewery was established by Dave Hares in May 2019, with the tap room opening in an ancient barn in April 2021. Apparently, the name comes from a line in a track by a band called The Reads on their 2011 album.
The taproom comprises a small bar with wooden tables, both inside and outside the barn. The 5000 litre micro-brewery is in a shed next door and produces a range of unpasteurised, unfiltered beers, all vegan friendly. The range covers most beer styles, including IPAs and pale ales, using a wide variety of hops in the recipes, including Mosaic, Strata, Ekuanot, Centennial, Citra & Simcoe. Dave plans to increase the capacity of the micro-brewery in the next few months. The design of some of the beer cans is the work of local artist, Tom Bowen.
When we visited the taproom on a Friday afternoon, a handful of draught keg craft beers were being offered, including A Thousand Satellites IPA (6.5%), Delta Pale Ale (4%), Michigan Pale Ale (5%), Tide Line Pale Ale (4.5%), Under the Sun Pale Ale (5.4%) and The Hundred IPA (6%), along with a guest stout. The Kaya-Thai street food wagon was also there, serving a range of tasty freshly-cooked Thai food.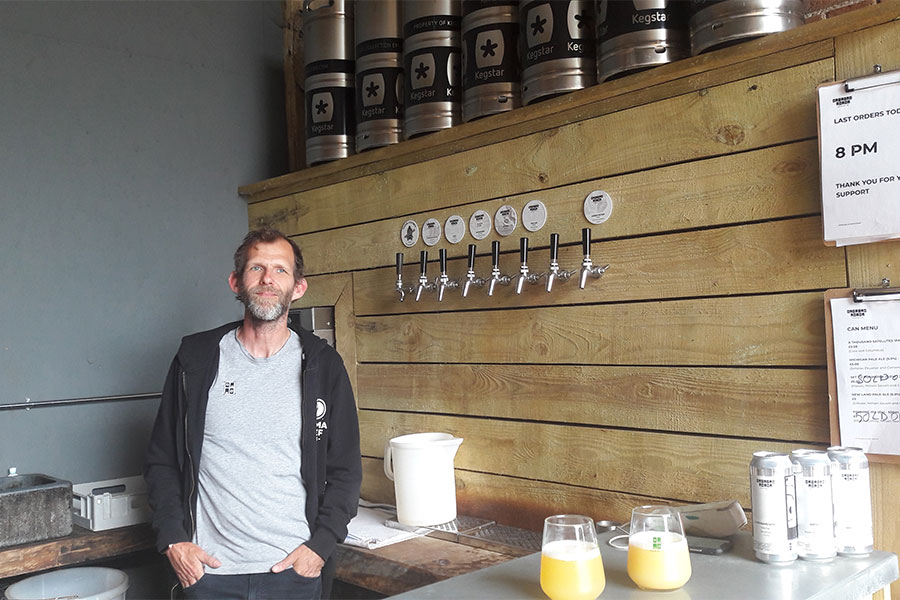 When we arrived, there were only a handful of folks present, but a couple of hours later, there were over 60 customers, sitting outside on the benches in the sun, mostly drinking Nothing Bound beers and sampling the street food. Where had they all come from, in the middle of the countryside, miles from anywhere? Well, there are several camp sites nearby and the lane was littered with parked cars.
The taproom is usually open on Fridays (1600-2000), Saturdays (1300-2000) and Sundays (1300-1700). There's a street food wagon on site, usually on Fridays and Saturdays (check website/Facebook page for details). Beers are available to drink on the premises or to take away in containers or cans. Nothing Bound beers are also often available in micro-pubs and craft beer bars/bottle shops locally and throughout the West Midlands.
Nothing Bound is situated in the heart of the north Worcestershire countryside, at Chapel Farm, just outside the village of Heightington, not far from Bewdley. It's probably best approached from Callow Hill on the main A456 between Bewdley and Ludlow, turning left at the Royal Forester Inn, down Blissgate Road and Heightington Road, a distance of around 2.6 miles (51 minutes walk). There's an hourly bus service (291/292 Mondays-Saturdays) from Bewdley to Callow Hill. The nearest railway station is at Kidderminster.
Steve James © June 2023