London Craft Beer Festival, Tobacco Dock, Tobacco Quay, Wapping Lane, London, E1W 2SF
The London Craft Beer Festival holds a special place in your Correspondent's heart, as it was the first Craft Beer Festival I ever attended, back in the days when it was held at the Oval. In those days I had exactly zero Craft Beer Friends, so I went on my own, and my mind was well and truly blown!
The Festival has matured beautifully since those days and this year celebrated it's tenth anniversary at the superb Tobacco Dock in Wapping. We managed to assemble a decent TWICB drinking team this year, and we braved the ridiculous 35 degree heat to get a chance to sample a reported 499 beers, from 100 brewers on the opening afternoon session.
Tobacco Dock is an event venue based in a Grade 1 listed tobacco warehouse built in 1812. The LCBF occupies around half of the available building, which is nicely subdivided into different sized rooms, with interconnected walkways and staircases. On the lower level, there are wonderful brick vaults, again divided into rooms and interesting spaces.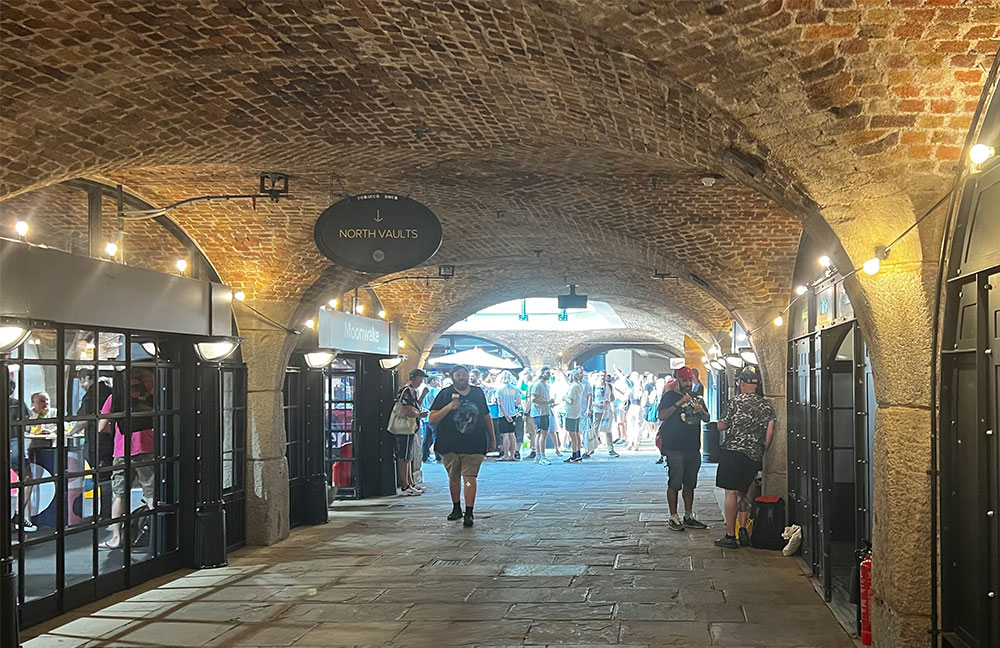 Beers from many UK craft breweries were on show – Ampersand, Briarbank, Cannabrew, Double-Barrelled, Fallen Acorn, Jack Rabbit, Pomona Island, S43, Three Hills, Little Earth Project, Left Handed Giant, Pastore & Northern Monk. Each brewery offered between 2-5 different beers giving plenty of choice during the 6 hour event.
For those not into craft beer, a wine & cocktail bar was available together with soft drinks. Speciality coffee drinks were also available from a vendor, though on such a hot day, business was far from brisk. Toilet facilities were clean and well looked after throughout the session.
Food was available from 3 street vendors offering delicious chicken burgers & waffles, traditional burgers and curry. Music was playing throughout the day which added to the party atmosphere. The beer selection was excellent with a variety of different strengths and styles. This the second time we have attended this event and both times it has been in glorious sunshine and a great success. We look forward to visiting again next year.