Leviathan Brewing Taproom, Unit 4&5, 17 Reddicap Trading Estate, Sutton Coldfield B75 7BU
We recently visited the taproom of Leviathan Brewing in Sutton Coldfield. It lies on the Reddicap Trading Estate, up a driveway off the main access road. Chris Hodgetts established Leviathan Brewing at the end of 2019. He started brewing in his 5-barrel micro-brewery in January 2020 and opened the taproom shortly afterwards. He brews a wide range of beers "that are interesting and that people will remember". His core beers tend to be Elysium, a 5% New England Pale Ale, and Voodoo People, a 4.9% stout, but he also brews many other beers. Chris is a huge music fan, particularly guitar-based and the heavier the better, so it's no surprise that there's definitely a heavy metal theme in some of his beers.
At the time of our visit, in addition to the core beers, around ten other keg craft beers were on offer. They included Saisons in the Abbyss (6.2% Saison), Walking in my Shoes (7% Porter), Limes Like Dimes (4.6% Imperial Pale Lager), You Can't Quit Me Baby (2.5% Table Beer), Double Elysium (8.2% Double IPA), Kviek and Destroy (6.8% Hazy IPA) and Magic People (10.2% Imperial Stout, for Schooners Bar). The most memorable was probably Master of Poppets, a 13.4% Chocolate Orange Stout. Usually, there's also two cask ales available on handpull, although when we were there only Imperial Number of the Feast (12% Imperial Stout) was available. Most of the beers are vegan friendly.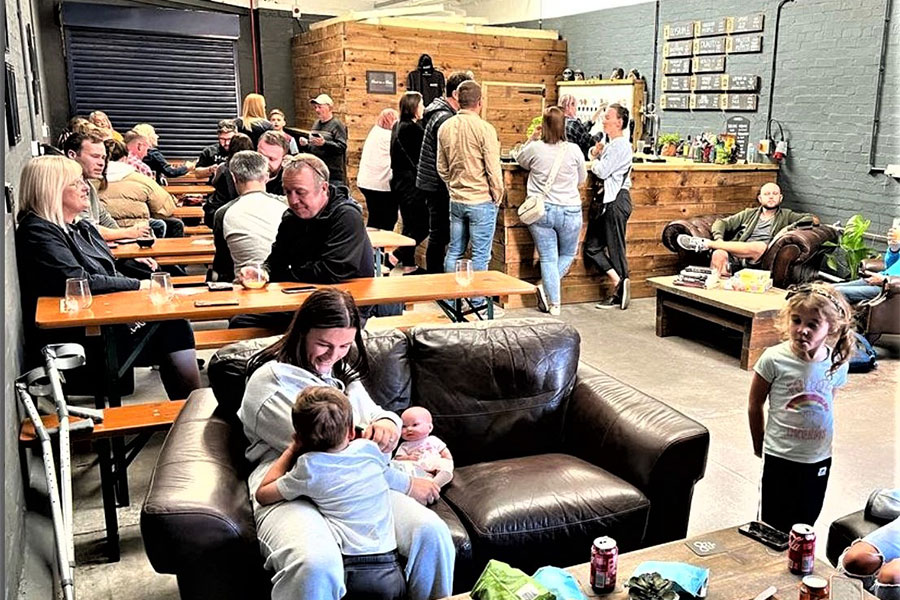 Neil usually looks after the taproom in a small industrial unit. There are several chairs and tables and it's dog, family and cyclist friendly. It's usually open on Thursdays (1700-2100), Fridays & Saturdays (1300-2200) and Sundays (1200-2000). It usually offers around a dozen of Leviathan's own beers, with the occasional guest beer.
Quiz nights are held regularly, along with a home-brew club, and a pop-up street food wagon is often on site at weekends. A limited range of merchandise is also available. Leviathan beers are also available locally in Sutton Coldfield at Cask & Craft.
Leviathan Brewing is not far from Sutton Coldfield town centre, about 15-minutes walk from the railway station. There are a couple of craft beer bars nearby (Cask & Craft, Ale Hub and Brewhouse & Kitchen), and it's well worth a visit if you're in the area.
Steve James © August 2023